For the first time in Major League Baseball history, two storied American baseball franchises faced off in a regular season MLB game in Europe. At London Stadium, today, the New York Yankees out-slugged the Boston Red Sox, in a marathon 4+ hour game, with a score more befitting the National Football League (and we're not talking "soccer"): 17-13.
Meghan Markle (a potential distant relative of the Boston Red Sox outfielder Mookie Betts) and Prince Harry were on hand, visiting both clubhouses, and the mound itself, where they accompanied ten participants of the Invictus Games, who threw out the ceremonial first pitch. There was a really lovely performance by the Kingdom Choir of the National Anthems of both the United States of America and Great Britain [MLB video link], and the seventh-inning stretch gave 60,000+ folks, across the pond, a chance to sing "Take Me Out to the Ballgame" [Goo Goo Dolls, YouTube link]. And because this was considered a Boston "home game," we were even treated to a recording of Neil Diamond's "Sweet Caroline" in the middle of the eighth inning.
But in the end, the Yanks outlasted the Sawx, who played for the first time in their 100-year old rivalry on artificial turf; the teams scored a combined 30 runs (second highest combined score in the history of their rivalry) and will meet again tomorrow (10 am Eastern time) to close out their MLB debut on the London Sports Stage. The game ended with Frank Sinatra singing, What else?: "New York, New York" [YouTube link].
I introduced this song and essay on Facebook with the following preface: Whatever your social, religious, philosophical, or cultural views, if you embrace the basic principles embodied in this country's "Declaration of Independence"---and its enunciation of the individual's rights to life, liberty, and the pursuit of happiness---then it is time to take a "Stand" for Stonewall on its Fiftieth Anniversary. Indeed, as the lyrics to today's song of the day state: "Stand! You've been sitting much too long. There's a permanent crease in your right and wrong." Check it out:
Song of the Day: Stand!, words and music by Sly Stone, was recorded by Sly and the Family Stone in 1969. This was the title song to the group's fourth studio album and was the last song they played on their set list at Woodstock---this year's first bona fide Woodstock Golden Anniversary moment, the theme of our 2019 Summer Music Festival. It was also a song that was featured on the jukebox of the Stonewall Inn, which in the wee hours of this very day, fifty years ago, was raided for the umpteenth time by the New York City Police Department. Perhaps the police didn't get the payola they expected from the Mafia-owners of the bar, since bars that served alcohol to people engaging in "disorderly conduct" (code for simply being gay) would be denied a liquor license in New York City. But this time, the patrons had had enough; they were, indeed, 'mad as hell and not going to take this anymore' [YouTube link]. They pushed back, rioted, and fought for six days in a siege against political oppression---giving birth to the modern gay liberation movement.

For those who are uncomfortable with this whole subject, as if it were some "leftist" expression of "identity politics," we need to make one thing perfectly clear (a phrase often attributed to President Richard Nixon, who took the White House fifty years ago this year): Both "liberals" (going all the way back to the policies of FDR) and "conservatives" (of both the McCarthyite and religious right variety) have played a part in crafting repressive laws in the United States aimed at crushing homosexuality. It is neither our job nor our responsibility to change the minds of those who find "alternative lifestyles" repugnant or who believe that same-sex relationships are a sign of "sickness" or "sin". Whatever one's cultural, religious, philosophical, or political views, it all comes down to liberty. If one values human liberty, one must recognize that state-sponsored terrorism against individuals---simply because of who they love or how they love---continues to this day across the world. Seventy countries still maintain laws that make it illegal to engage in same-sex sexual activity, and so-called "leftist" regimes have been among the most repressive, in this regard. Whether in the name of politics or religion, these countries have used imprisonment, flogging, and torture to punish those who are different, and in ten countries, execution---by stoning, hanging, beheading, or being thrown off buildings---is government policy, legitimized by various states' interpretations of Islamic law. The battle cry of Stonewall is as prescient today as it was fifty years ago. Indeed, "eternal vigilance is the price of liberty." And those who value liberty need to embrace a future in which the Rainbow Railroad [CBS News link] is no longer required to save those who are being persecuted in other countries for their sexual orientation.
In the United States, there were heroes in the battle for individual rights prior to Stonewall, who fought government entrapment and discrimination against "the love that dare not speak its name"---going all the way back to the 1920s, with the Society for Human Rights and into the 1950s, with organizations such as the Daughters of Bilitis, the Mattachine Society, and, among individuals, the courageous Frank Kameny, who challenged "The Lavender Scare" [PBS video link].
But the significance of the Stonewall Uprising by a group of individuals who were too often marginalized and brutalized by the police, the courts, and the culture-at-large is that, in its fundamental premises, it was based upon a sacrosanct libertarian principle: that every human being, regardless of age, ethnicity, gender, race, or sexual orientation, has a right to equal protection under the law, a right to life, liberty, property, and the pursuit of happiness, without infringement by the coercive, oppressive tools used by municipal, state, and federal governmental institutions. This month, New York City's Police Commissioner James O'Neill apologized for the NYPD's actions fifty years ago at the Stonewall. This was no mere nod to "political correctness." The commissioner recognized that "[t]he actions taken by the NYPD were wrong, plain and simple. The actions were discriminatory and oppressive and for that I apologize." Even the New York Yankees unveiled a plaque in Monument Park to commemorate this date in history.
We can listen to the lyrics of today's song as an expression of the libertarian spirit of the Stonewall Rebellion: "Stand! There's a cross for you to bear. Things to go through if you're going anywhere. Stand! For the things you know are right. It's the truth that the truth makes them so uptight. Stand! You've been sitting much too long. There's a permanent crease in your right and wrong. Stand! They will try to make you crawl. And they know what you're saying makes sense and all. Stand! Don't you know that you are free. Well at least in your mind if you want to be. ... Stand! Stand! Stand!" I stand in solidarity with those brave men and women who fought for their rights half-a-century ago on this day. Check out the album version of this song and its energetic performance by the group at Woodstock [YouTube link].
Postscript (29 June 2019) Justin Raimondo, Outlaw, RIP. Justin lost his battle with lung cancer and has died at the age of 67, on the eve of the fiftieth anniversary of the Stonewall Rebellion. I knew JR from way back when---going all the way back to when he wrote that monograph for Students for a Libertarian Society, "In Praise of Outlaws: Rebuilding Gay Liberation," which saw Stonewall and the rise of the gay liberation movement as a distinctively libertarian event. And he was right. A lightening rod for many people, antiwar.com was his passion, and though we had our disagreements through the years, he was always fighting against the policy of "perpetual war for perpetual peace."
Postscript #2 (30 June 2019): In another thread on Facebook, I had a bit of a discussion with regard to whether the struggle for "gay rights" is over in the United States, and I made the same point in that thread that I make here in my Notablog post: Seventy countries across the world still treat same-sex activities as a crime punishable by imprisonment, flogging, and torture, and ten of those countries treat it as a crime punishable by execution (beheading, hanging, and being thrown off buildings).
It was suggested that I might be implicitly advocating trying to intervene in those other countries to change their domestic policies; as a firm non-interventionist in foreign policy, I am totally against such intervention even for the purpose of human rights abuses abroad. But that does not mean that I favor the long history of foreign aid policies practiced by the United States, which involves expropriating the American taxpayer for the purpose of sending "foreign aid" to despotic regimes abroad, like Saudi Arabia, which are then required to use that "foreign aid" to purchase US munitions, which they can use in their wholesale slaughter of people in Yemen and elsewhere. US relationships with such despotic regimes is legion, and our current President believes "it is good for the economy."
Considering that the Saudis gave us 17 of the 19 hijackers who flew planes into the Twin Towers and elsewhere and that they were probably complicit in the 9/11 attack, I would say that what might be "good for the economy" is most definitely not good for the stability of the Middle East and other hot-spots around the globe, where the US has a record that even Trump himself once said was not so "innocent."
No, we cannot change the domestic policies of foreign governments that engage in violations of human rights. But that doesn't mean the U.S. taxpayer should be subsidizing them. This is not a battle for "gay rights"; it is a battle for individual rights, and individual rights don't cease at the borders of the United States.
But yes, Stonewall 50 is a a cause for celebration for all those who believe that individual rights apply to every person regardless of sexual orientation. And I stand in solidarity will all those who sacrificed their lives over the past century to get this country to recognize those rights.
Postscript #3 (1 July 2019): I added this comment to a Facebook post by Tom Palmer, who provided a link to a fine 2016 article by David Boaz, "Capitalism, Not Socialism, Led to Gay Rights:
Good piece by David Boaz and thanks for posting, Tom!
I've heard from quite a few of my very orthodox Marxist colleagues over the years who believe that homosexuality is one of the decadent offshoots of capitalism (guess they missed all that stuff that went on in the ancient world) and that it would wither away, like the state, under full communism.
They also leave out the part that gulags will play in helping the withering-away process.
Of course, orthodox Marxists actually reject the whole development of 'identity politics' (which the fight for same-sex individual rights is most certainly not) as a way of obfuscating the "essential" conflict between proletarians and capitalists.
I've argued this past weekend that the Stonewall Rebellion was in its essence a libertarian expression of the fight for the individual's right to live his or her own life, socialize in privately-owned establishments without police harassment, and pursue happiness without the interference of state-sanctioned terrorism. That fight goes on globally and even within this country; the battle for "gay rights" is not over, as James Kirchick says in "The Atlantic." If it is over, I invite anyone to go into the reddest of red states (or any sections in "blue" states in which "tolerance" is not a key cultural value), holding hands with their partner, and in open spaces, sharing a romantic kiss as the sun sets. Then we'll take a poll and see how many folks get their heads bashed in.
On all these issues of markets having changed traditional notions of the family, women, and sexuality, over time, I highly recommend the work of Steve Horwitz, especially his book Hayek's Modern Family: Classical Liberalism and the Evolution of Social Institutions and, of course, his essay in The Dialectics of Liberty: "The Dialectic of Culture and Markets in Expanding Family Freedom." Check out the abstract here.
I agree that the essential political and legal battles have been won, but changing political culture and mores is a long-term process, and often leads to a kind of political/legal backlash against which one must always be vigilant.
And as a noninterventionist in foreign affairs, while I would never advocate interfering in the domestic affairs of other countries, the fact remains that seventy countries still categorize homosexuality as a crime punishable by imprisonment, flogging, and torture, and in ten of those countries, it is punishable by execution (beheading, hanging, or being thrown off buildings). No, the US has no business being the world's policeman on violations of human rights, but the least it could do is to stop expropriating its taxpayers into providing "foreign military aid" (a fancy phrase to describe providing U.S. financial assistance to foreign governments that are then obligated to purchase U.S.-manufactured munitions) to reactionary governments, such as Saudi Arabia, which has a horrendous human rights record, and is using all those munitions to slaughter people in Yemen.
Ah, but our President says it's "good for the economy."
I've written on quite a few threads throughout Facebook, and am collecting on Notablog, as I go along, all the random (though not unrelated) points I've made in response to those who question (again) the very meaning of "dialectical method", which is the basis of the new anthology, coedited by Ed Younkins and Roger Bissell: The Dialectics of Liberty: Exploring the Context of Human Freedom. Check this link periodically, if you're not following the multiple threads on which I've commented, with regard to this work:
o In my use of the term "dialectics", it is a prism through which to understand social problems. It is the "art of context-keeping", which asks the social theorist to grasp the larger systemic and historical context within which social problems arise. No social problem is to be looked at as if it were an atomistic, isolated unit, separable from the context in which it is embedded. So in "exploring the context of human freedom" (our subtitle), we're asking libertarians to show a profound regard for that larger context, which includes personal, cultural, and structural (political-economic) elements especially if their aim is to change society. It's not simply: Get rid of (or minimize) the state and everything will be fine. There are other, deeper issues that must be addressed in understanding social problems and attempting to resolve them. This way of looking at the world may have been taken up by the left, but it originated with Aristotle, who wrote the first treatise on dialectical method ("Topics"), even though his discussion of viewing issues from multiple "points of view" is peppered throughout the entire Aristotelian canon. Hegel himself called Aristotle "the fountainhead" of this dialectical method. I'm not going to deny that I learned much about dialectical method from a very high profile Marxist scholar, my mentor Bertell Ollman---and it was through him that I learned to use the method as one of social analysis. My "Dialectics and Liberty Trilogy" (which consists of Marx, Hayek, and Utopia, Ayn Rand: The Russian Radical, and Total Freedom: Toward a Dialectical Libertarianism) was geared toward taking back the method for use by libertarians to bolster their approach to the study of freedom---and of the forces that constrain it.
o Even logic can be abused if it is based on false premises; some philosophers have deduced whole systems of philosophy from a single faulty premise. Dialectics is the handmaiden of logic, and can be undermined by false premises, faulty induction, incorrect identification or interpretation of historical facts, etc. And each "art" can be used as a rationalization for any kind of lunacy. All the more reason to fight against its ties to lunacy. One of the guiding purposes throughout my entire intellectual life has been to take back dialectical method and to build a paradigm by which to strengthen libertarian thinking, which itself can succumb to nondialectical, utopian lapses. And if implemented would lead to dystopian consequences.
o The Soviets---and the Nazis---were masters of distortion and propaganda; it was one of the elements that they used to defend their authority and maintain their power over their own populations. Whether it was the claims to being based on "scientific socialism" in the case of the Stalinists or of admiring the eugenics work of U.S. scientists in the case of Hitler and his genocidal tyranny, each regime had a propaganda machine that allegedly used "science" as the basis for their claims to power. The irony is that not even Marx would have approved of the "Soviet" application of "scientific socialism"---given that he believed genuine socialism could only emerge out of a very advanced stage of capitalism that had basically solved the problem of scarcity (to the point where the society could afford to give 'from each according to his ability to each according to his needs'). Of course, as I argue in two of the books of my trilogy, scarcity is never resolved (because, at the very least, we are all mortal and time for each agent is inherently scarce), and Marx's predictions of a post-scarcity society were a product of what Hayek called a "synoptic delusion." Not a very "dialectical" insight on the part of Marx; where he was so good at criticizing the "utopian socialists" for their contextless proposals, he, himself, succumbs to the very utopian pitfalls he criticized.
o I think that even if Marxists are not into post-scarcity as a goal, they can't have their cake and eat it too: they can't endorse the maxim "from each according to his ability to each according to his needs" if there is not enough ability---and not enough goods and services to go around. That's why Marx predicated the achievement of communism as an outgrowth of a very advanced stage of capitalism, which, in his view, would have essentially solved the problem of scarcity. If everything is abundant, no need to worry about expropriation, and the state will wither away. If you believe that, I have a nice bridge in Brooklyn I could sell you.
o I think that in the case of conservatism, for example, there is a very real understanding of what conservatives believe is essential to the sustenance of a free society. For them, it is typically tradition and the slow evolution of mores over time (at least in the Burkean and Hayekian sense) that serves as the context upon which a stable free society can be built. My disagreement with the approach of many conservatives on this issue is that though they understand the need for a larger cultural context that is supportive of free institutions, they don't recognize how free markets themselves often undermine traditions and challenge traditional mores. As I may have mentioned, Steve Horwitz's article on the family, in The Dialectics of Liberty (and in his own book on Hayek and the family) makes this case quite well. As for "dialectical objectivism"---I can think of one book in particular that reconstructs Rand's philosophy through that prism of interpretation, but the title escapes me at the moment. :)
o A postscript to my above comment, something I shared with my friend Ed Younkins: While it is true that we can use "dialectical" as an adjective to modify any "ism", it is also true that just about anybody can be "dialectical" and "logical", for as Aristotle said, dialectical thinking is like the "proverbial door, which no one can fail to hit" (or even a broken clock can be right twice a day). The point however is that we aim for it to be anchored to the facts of reality, which is why, even at their best, when conservatives try to be dialectical, they are missing something in their contextual arguments--namely, that the market itself challenges the very mores they claim to be the only basis upon which a stable market society can be built. Every person and virtually every school of thought can exhibit dialectical and logical thinking -- since these are constituents of thinking as such. That doesn't make them fully dialectical (or fully logical) by a long shot; hence--the need for a "dialectics of liberty." But even in our book... we don't settle on one vision of what that means. I would like to think that we're getting closer than anybody else toward hammering out a more context-sensitive, fact-based model for thinking more clearly about liberty and the context it requires for its sustenance.
o I agree that the Marxist appropriation did much to destroy what was a supremely important methodological approach. All the more reason to resurrect it with a throwback to its realist Aristotelian beginnings. The Marxists didn't own dialectical method, and in many ways, destroyed the enterprise altogether by falling into the pitfalls of nondialectical, utopian thinking. We hope not to make the same mistake---and suffer the same dystopian consequences.
In response to those who think that "dialectical method" is a fancy phrase for a "trivial" mental process, I state:
o The point, however, is that as "trivial" as it sounds, there are not many folks who can think in a consistently logical or dialectical manner---look at the entire field of U.S. politicians for a lesson on how disintegrated their views are, and the effects that such views can have on the world at large. Indeed, right here in New York City, capital of the world, the DeBlasio administration is engaging in a systematic attack against education for the gifted and talented, those few schools that actually do teach children in a more enriched and systematic way.
o Ayn Rand herself talked about how modern education often put children on an unequal cognitive footing because pedagogical methods tended toward dis-integration and rote memorization, while also teaching a whole generation of kids about the nature of obedience to authority. That which seems "trivial" is, in fact, not trivial at all. Training children in the principles of efficient thinking, providing them the tools by which to think through an argument, follow it to its logical conclusions, understand its potential unintended consequences, and trace the interconnections between topics and problems within a larger system across time (in which those topics and problems often become preconditions and effects of one another) is a highly sophisticated art. It's not something that is typical of American education, whether in the early grades or in college. In fact, as "specialization" has proceeded, and as studies have become more and more compartmentalized, integrated, interdisciplinary work is put at a disadvantage. One of the best things about The Dialectics of Liberty and the series of which it is apart, edited by Ed Younkins ("Capitalist Thought: Studies in Philosophy, Politics, and Economics") is its emphasis on the interconnectedness of the humanities and the social sciences. I'm delighted that our new book is part of that series, thanks to Ed and his monumental efforts. [And check out one of Ed's new entries in the series, Perspectives on Ayn Rand's Contributions to Economic and Business Thought]
I'll add to this entry, if and when I say anything more on this subject. Of course, it would really be nice if folks read the new collection before commenting on its themes, but I've been through this before and have been blessed with the patience of a saint---even if what I say sometimes does not sound too saintly. :)
A couple of years ago, I received Pope Francis and the Caring Society (Oakland, CA: Independent Institute, 2017) from David J. Theroux of the Independent Institute. I very rarely review books for Notablog, but this sure did look like an interesting work. And it is, in fact, a challenging volume worthy of attention.
Consisting of seven chapters written by a diverse group of authors, it is edited by Robert M. Whaples and includes a foreword by Michael Novak. The book engages in a dialogue of sorts with Pope Francis specifically on matters of political economy and social justice. Novak states upfront that "the book shares [the Pope's] commitment to Judeo-Christian teachings and institutions. In the process, the book's authors are seeking constructively to engage and educate civic and business leaders and the general public to understand the legacy and meaning of the natural law, moral and economic principles of liberty, personal responsibility, enterprise, civic virtue, family and community, and the rule of law" (xix).
But editor Whaples makes it clear in his Introduction that this book is designed "to advance the dialogue at a critical juncture" in Pope Francis's papal reign (2). It seeks to educate the papacy on the virtues of free markets in resolving many of the problems that the Pope has blamed on "capitalism"---whatever that term means. Indeed, referring to Pope John Paul II, Novak suggests that "capitalism" means different things to different folks: for some, it is about the liberating force of free trade and open markets; for others, it is about special privileges vested in the wealthy by a state that bolsters their power at the expense of the poor (xxv). And nothing could be more un-Christian than embracing a system that is designed to exploit the least-advantaged people in a society.
One of the most important contributions of this book is that it places Pope Francis's views of capitalism in an understandable context. This is a man who came from Argentina---with its history of Peronist corporatism, which enriched its business clients. And if this is what Pope Francis views as "a model of capitalism," one "that friends of free markets rightly reject as capitalism at its worst," not reflective of how markets work under different institutional and cultural contexts (3), then it certainly helps to explain the Pope's "much lower opinion of capitalism and market economies than most economists" (25). This is a crucially important point in any exploration of the Pope's economic perspective. As one who has embraced dialectical method, the supreme "art of context-keeping," I have grown wary of using the very term "capitalism"---despite Ayn Rand's own projection of the "unknown ideal" that such a social system would embody. Her concept of "capitalism" is almost a Weberian "ideal type," organically connected to the notion of individual rights, in which all property is privately owned. But even she argues that such a system has never existed in its purest form. In many ways, her ahistorical re-conceptualization of terms such as "capitalism" and even "government" (ideally viewed as a voluntarily funded institution strictly limited to the protection of individual rights)---differs fundamentally from "the known reality."
Indeed, as Friedrich Hayek reminds us in "History and Politics," his introductory essay to Capitalism and the Historians: "In many ways it is misleading to speak of 'capitalism' as though this had been a new and altogether different system which suddenly came into being toward the end of the eighteenth century; we use this term here because it is the most familiar name, but only with great reluctance, since with its modern connotations it is itself largely a creation of that socialist interpretation of economic history with which we are concerned" (14-15, 1954 edition, University of Chicago Press).
Given this reality, I found Andrew M. Yuengert's chapter, "Pope Francis, His Predecessors, and the Market," to be especially important. Yuengert argues that, as a "citizen of Argentina---a country that is without political institutions capable of putting the economy at the service of the common good and that instead uses and is used by business and political interests to increase the power of business and political elites," the Pope witnessed "a prime example of how crony capitalism and statist control of the economy can wreck a country that deserves better" (43-44). Nevertheless, it is also true that the Pope's analysis of the market economy has been in keeping with an emerging tradition of "Catholic social teaching" that is increasingly at odds with the very idea of a market society (47).
Samuel Gregg, in his chapter, "Understanding Pope Francis: Argentina, Economic Failure, and the Teologia del Pueblo," reinforces Yuengert's points. He argues correctly that the Pope's views of the market economy "did not emerge in a vacuum" (51). Likewise, Gabriel X. Martinez focuses on the oligarchic nature of Argentinian economic nationalism, pointing out that even attempts to "liberalize" the economy have benefited entrenched interests. All of this is the prism through which the Pope views market societies; is it any wonder that he is at odds with those who offer market solutions to government-created problems? Instead, he has adopted a state-centered approach of massive government redistribution as the means to alleviate poverty.
Lawrence J. McQuillan and Hayeon Carol Park take on this issue with vigor. The authors point out the obvious: A market economy generates the wealth that makes possible charitable giving on a scale hitherto unknown. Government "redistribution" does not generate wealth; it can only "coercively" take money from one group and give it to another (89). They argue that "[f]orced government transfers actually destroy genuine charity within society. They serve primarily to make people more accepting of the use of force to achieve ends they consider worthy and produce resentment and division among those forced to give to 'charitable' endeavors they do not choose to support. Freedom of choice and the exercise of conscience are better suited to making people more compassionate citizens" (90)---something that should resonate with the Church's teachings. The authors also analyze Pope Francis's early writings (under his given name, Jorge Bergoglio, archbishop of Buenos Aires), in which he focused on "the limits of capitalism"---which accepted many of the premises of the Marxist-hued liberation theology that bloomed in Latin America in the 1960s and 1970s (92). The authors make fine use of the Hayekian argument on "the knowledge problem" that permeates nonmarket societies, and why governmental intervention is not the best way to achieve the equality that the Pope seeks.
My favorite quote in this chapter comes from none other than President Franklin Delano Roosevelt, who gave us the corporatist New Deal as an answer to the government-induced 1929 Stock Market Crash and the Great Depression of the 1930s that followed. FDR saw the dangers of fostering a "culture of dependency" in the welfare state he himself was building: "Continued dependence upon relief induces a spiritual and moral disintegration fundamentally destructive to the national fiber. To dole out relief in this way is to administer a narcotic, a subtle destroyer of the human spirit" (109). For the same reason, these authors argue, Papal support for increased governmental redistributive efforts will only undermine the ability of entrepreneurs to produce the wealth that can support private charity. They warn that "[t]he road to hell and to poverty is paved with good intentions" (111).
While this book does not address this Pope's views on non-economic topics (e.g., on the sexual abuse scandals of the Catholic Church or any evolution in Church teachings on birth control and sexuality), it does focus some additional attention on the environment, conservation, and the family, in chapters written by A. M. C. Waterman, Philip Booth, and Allan C. Carlson. Booth is especially good on the "tragedy of the commons" (164) in generating environmental decay and industrial pollution.
Robert P. Murphy provides a bold conclusion to the volume: "Historically, there has been an undeniable tension, if not outright conflict, between religion and economics" (199). He laments the "impasse" (199) and hopes that the current work can contribute to "a foundation of mutual respect" as each side engages the other (201).
All I can say is: From Murphy's lips to God's ears.
Song of the Day: Who Is It? features the words and music of Michael Jackson, from the 1991 album, "Dangerous." On this day, ten years ago, the artist tragically died. As I note in today's Notablog essay, "Michael Jackson Ten Years After: Man or Monster in the Mirror," there are still reasons to celebrate the art of somebody, even if it should be discovered that they may have done something in their lives that was terribly destructive. This particular track went to #1 on Billboard's Hot Dance Club chart. Its various versions provide different hues of interpretation; check out the original David Fincher-directed music video and his beat box interpretation of the song in an interview with Oprah Winfrey, which became the basis of one of the song's remixes, and then hit the dance floor with the slammin' Brothers in Rhythm House Mix, the Brothers Cool Dub, Moby's Tribal Mix and Moby's Lakeside Dub [YouTube links]. RIP, MJ.
This essay makes its Notablog debut on the tenth anniversary of the tragic death of Michael Jackson. It can also be found in the essay section of my home page here. It deals with one of the most difficult issues we face in evaluating art---and its creator.
Can Bad People Create Good Art?
Writing in The New York Times, Charles McGrath asks: "Can bad people create good art? If that question pops up on an exam or at a dinner party, you might want to be wary. The obvious answer---so obvious that it practically goes without saying, and ought to make the examinee suspicious---is that bad people, or at least people who think and behave in ways most of us find abhorrent, make good art all the time." McGrath then gives us a laundry list of folks who are frequently cited as pretty bad people who created good art, among them such notorious anti-Semites as the proto-fascist Ezra Pound, composer Richard Wagner, who "once wrote that Jews were by definition incapable of art," and Edgar Degas, whose anti-Semitism led him to defend "the French court that falsely convicted Alfred Dreyfus." (And Lord forbid any of you should respond with a slight nod of aesthetic approval to just one of these paintings, for it will only prove that you are a secret admirer of young Adolf!)
But the list of "bad artists" who may have created "good art" is legion: There's Norman Mailer who "in a rage once tried to kill one of his wives"; the "painter Caravaggio and the poet and playwright Ben Jonson [who] both killed men in duels or brawls"; Jean Genet, gay prostitute and petty thief; Arthur Rimbaud, who flaunted all the conventions of his time; Gustave Flaubert, who "paid for sex with boys," and so it goes.
We can add to that list: Director Roman Polanski, who fled the United States after pleading guilty to a statutory rape charge, but who gave us the classic horror flick, "Rosemary's Baby,"; the great neo-noir mystery "Chinatown," and "The Pianist," a harrowing biopic of Holocaust survivor Waldyslaw Szpilman (played by Oscar-winning Best Actor Adrien Brody). Most recently, let's not forget: Producer Harvey Weinstein, who may not have been an artist, but who produced Oscar Award-winning films and Tony Award-winning plays, and was expelled from the Academy of Motion Picture Arts and Sciences for a series of horrific allegations leading to his arrest on charges of rape and sexual assault---practically giving birth to the #MeToo Movement; R&B singing sensation R. Kelly, who was once indicted (and found not guilty) on charges of child pornography, only to be re-indicted this past Februrary on ten counts of aggravated criminal sexual abuse; funk musician Rick James, who gave it to us with "Super Freak," only to end up in prison on everything from draft evasion to rampant drug use that led to kidnapping and sexual assault convictions; long-beloved comedian Bill Cosby, who is now serving a three-to-ten year sentence for aggravated indecent assault.
In the ideological sphere, honorable mention goes to Dalton Trumbo, among the blacklisted Hollywood Ten, whose trials and tribulations were the subject of a fine 2015 film starring Bryan Cranston, which doesn't once mention that Trumbo was an apologist for the Stalinist purges of the 1930s. But it does remind us of what a gifted writer he could be, when you see re-created scenes from the momentous 1960 epic "Spartacus." And let's not forget Kate Smith, whose recording of "God Bless America" has now forever been banned from Yankee Stadium during the seventh-inning stretch, because she recorded a couple of records almost ninety years ago (in 1931) with racist lyrics.
Indeed, once we open up that ideological and historical can of worms, we're faced with calls to obliterate various monuments to the American revolutionaries who fought for life, liberty, and the pursuit of happiness, including Thomas Jefferson, who, despite penning the Declaration of Independence and speaking out against slavery, owned over 600 slaves himself, freeing only seven in his lifetime.
Human beings are a complicated lot. As McGrath points out, however, it is very misleading to ascribe "badness" and "goodness" especially in the context of artists and art, because these concepts can have different referents: they can point either to the person's moral worth or to the aesthetic merit of that person's work. Take Wagner. For this film score fan, the impact of Wagner on the art of the score is immeasurable. Even "[t]he conductor Daniel Barenboim, a Jew, is a champion of Wagner's music, for example, and has made a point of playing it in Israel, where it is hardly welcome. His defense is that while Wagner may have been reprehensible, his music is not. Barenboim likes to say that Wagner did not compose a single note that is anti-Semitic." McGrath states further that "the disconnect between art and morality goes further than that: not only can a 'bad' person write a good novel or paint a good picture, but a good picture or a good novel can depict a very bad thing. Think of Picasso's Guernica or Nabokov's Lolita, an exceptionally good novel about the sexual abuse of a minor, described in a way that makes the protagonist seem almost sympathetic."
McGrath recognizes that art, like ideas, is one of those realms of human experience that can inspire us, enlarging "our understanding and our sympathies." He hits upon an even more interesting point when he states, in almost Randian fashion, that "the creation of truly great art requires a degree of concentration, commitment, dedication, and preoccupation---of selfishness, in a word---that sets that artist apart and makes him not an outlaw, exactly, but a law unto himself." Of course, from a Randian standpoint, there is a virtue of selfishness, even if it is typically viewed as a vice. And it needn't mean that the artist qua selfish is necessarily tortured or bad. Yet, it is nevertheless true that many artists have been tortured souls throughout the centuries. Finding ways to express their inner conflicts and tensions through the sheer act of creation can provide for a kind of cathartic experience. For those of us who respond to that art, it provides a form of objectification that allows us to appreciate the art work on its own terms, whatever the moral merits of the person who created it.
But comedian Pete Davidson scored a few points in the Gallows Humor Department in one of those "Weekend Update" segments on "Saturday Night Live" [YouTube link]. "Once we start doing our research," he quipped, "we're not gonna have much left, you know, because it seems like all really talented people are sick." Well, I wouldn't go that far. Moreover, not every artist has a cesspool for a soul. Thank goodness.
But when we admire a piece of art, whether it be a painting hanging on the wall of a museum or a work of music, we don't have to contemplate how lost, how tortured, or how awful the artist may have been as a person when they engaged in the act of creation. If the work speaks to us, whether we respond to it on the level of "sense of life" or just because of our mood on that particular day, what we are responding to is that work, not necessarily to the person who created it.
Distinguishing Between the Creator and the Creation
If we focus long enough on the artist, rather than the art, or the writer, rather than what is written, we might be led to airbrush out of existence some of the most important and influential artists or intellectuals---be they "good" or "bad"---throughout human history. This is a subject that hits close to home for a scholar such as myself. In my work, I have spent much time analyzing the legacies of many individuals whose ideas stand in diametric opposition to one another. Though I stand by the dialectical mantra that "context matters"--that is, though I am inclined to place the work of a thinker within the larger context of that thinker's life and the culture within which that thinker came to maturity, all of which helps us to better understand his or her ideas---it would never lead me to dismiss that thinker's work on the basis of their personal or cultural context. Let's take Karl Marx as an example; many have focused on evidence that he "lived in filth and neglected his own children." That may be true. But I would not treat his work with a sweeping ad hominem dismissal---especially since one of my goals has been to grapple with his intellectual legacy and his use of a dialectical method of social analysis, so important to my own project of rescuing dialectics for libertarian theory. And, as a Rand scholar, I have had to face all sorts of criticisms of Rand the person---from those who despise her work, and who dismiss it wholesale on the basis of her questionable personal attitudes toward everything from Beethoven to homosexuality, or who view her as nothing more than a pop-novelist and cult-leader who had a scandalous sexual affair with her protege, Nathaniel Branden, twenty-five years her junior, which destroyed their personal and professional relationship, and which she never acknowledged publicly. And on the other side of that equation, I've had to come to grips with those Rand acolytes who dismiss all of Branden's work on the importance of self-esteem to human survival, because he lied repeatedly to Rand as that relationship dissolved, thus showing him, and, by extension, his ideas, as, at best, hypocritical, or at worst, a sign that he was nothing other than a self-aggrandizing con man.
Michael Jackson and "Leaving Neverland"
And so, finally, we come to the subject of Michael Jackson, the boy who became a man before his time, as he led his brothers in the Jackson Five straight into the Rock and Roll Hall of Fame, and who, as a solo artist, amassed a discography that has sold hundreds of millions of records worldwide, giving him his own place in that same famed hall. Jackson's impact on music, dance, fashion, and culture has influenced scores of artists over the past fifty years. His music has been sampled, reinterpreted, and resurrected by everyone from Justin Timberlake and Drake to Alien Ant Farm, Chris Cornell, and the 2Cellos [YouTube links].
But there were those allegations that first emerged in 1993, when police descended on his Neverland Ranch, investigating claims that Jackson had molested a 13-year old boy. An exhaustive search found no incriminating evidence, though a civil case brought by the boy in question, Jordan Chandler, and his parents, was eventually settled out of court. Later, in 2005, Jackson was charged with the child molestation of Gavin Arvizo, serving alcohol to a minor, conspiracy, and kidnapping, facing twenty years in prison. His homes were ransacked by the LAPD, but nothing incriminating was found, and an in-depth investigation by the FBI came up with no evidence of wrongdoing. In the end, Jackson was acquitted of all charges.
As Forbes magazine reported, however, choreographer Wade Robson had testified in the 2005 trial under oath, that as a child and young adolescent, in the many years that he knew Michael Jackson, the artist had never touched him inappropriately or sexually abused him. James Safechuck, who spent time with Jackson in the 1980s, also defended Jackson back in the 1993 case. Various events thereafter occurred which led these two men to eventually file suits against the Jackson Estate, nearly four years after Jackson's tragic death on June 25, 2009 (a decade ago this very day), seeking $1.5 billion in damages, claiming that they had, in fact, been sexually abused by Jackson: Robson, when he was between 7 and 14 years of age; Safechuck, when he was 10 to 12 years of age. Both the Robson and Safechuck cases were dismissed in probate court.
On January 25, 2019, at the Sundance Film Festival, the documentary, "Leaving Neverland," directed by Dan Reed, featuring both Robson and Safechuck, as well as some of their relatives, made its debut. HBO showed the four-hour documentary over two nights in March 2019, followed by an Oprah Winfrey-hosted special, with Reed, Robson, and Safechuck as guests. I watched the documentary in full and the "After Neverland" Winfrey interviews, and was left feeling deeply saddened and sick at heart. The dead cannot defend themselves, and the documentary offered no cross-examination, no counter-testimony [YouTube links], and no alternative narratives [Quora Digest link]. But that didn't take away the sting of hearing the shattering testaments or of observing the body language of the two men as they painted shockingly graphic portraits of their sexual abuse by someone who had befriended them, groomed them, and subsequently betrayed their trust.
If none of what they say is true, it is a travesty to the memory of a man, who was probably abused as a child himself, and who went on to raise millions of dollars in humanitarian aid for children worldwide with his "We Are the World" single (co-written with Lionel Richie) and his Heal the World Foundation.
If only 10% of what they say is true, it is a horrifying portrait indeed. But for the sake of this essay, which marks the tenth anniversary of the tragic death of a truly unique artist, let's say it's all true.
What does this mean for those of us who grew up listening and dancing to Michael Jackson's music?
Reassessing Jackson's Artistry? Reassessing Myself?
Michael Jackson's music was, for all intents and purposes, like the coming-of-age soundtrack of my youth.
Indeed, I can tell you that as a 9-year old kid, in December of 1969, I sat in front of my black and white television and was inspired to see somebody about my own age stepping out onto the stage of the "Ed Sullivan Show" to belt out "I Want You Back" [YouTube link] like he was an old pro. I can't count the number of times, as a mobile DJ in my college years, how I lit up the dance floor with the propulsive beats of the Jacksons' "Shake Your Body (Down to the Ground)" or "Walk Right Now" [YouTube links] or how I got a group of tired teachers up at a school reunion to dance over and over again to "The Way You Make Me Feel" [YouTube link]. Or how MJ drew me into a world of romantic intrigue with his "Heartbreak Hotel" (aka "This Place Hotel") [YouTube link]. Or, more personally, how I danced, with a blind date, to the disco beats of "Don't Stop 'til You Get Enough" and "Rock with You" [YouTube link] from MJ's pathbreaking solo album, "Off The Wall." Or how awestruck I was when I saw him on the "Motown 25" special doing his sensational signature Moonwalk to "Billie Jean" [YouTube link] (predictably, on the recent "Motown 60" special, he was practically airbrushed out of existence). Or the first time I saw the chilling, thrilling video to the title track of the album [YouTube link] from which "Billie Jean" emerged, the all-time global best-selling "Thriller." Or that first sensuous kiss I experienced with somebody, in a moment of intimacy, listening to the "Quiet Storm" sounds of "The Lady in My Life" [YouTube link] from that same album.
I saw MJ perform live in concert two times, once with his brothers (on the "Victory Tour") and once as a solo artist (on the "Bad" tour). He was a lion on stage, the quintessential song-and-dance man of his generation who merged the grace of Astaire and Kelly with the grit of the street. Filled with irrepressible energy that fueled more than two hours of one greatest hit after another, his choreography was staggering to watch, his vocals were purer than anything you'd hear even on a carefully produced studio album. Even my mother went to those shows, she loved him so much!
So, where does this leave me? Am I to feel guilty that my foot still starts to tap, almost involuntarily, every time I hear that bass line that opens "Billie Jean" or "Bad"?
Maybe Michael Jackson was really trying to tell us something literally when he sang, "I'm bad, I'm bad, you know it." Or maybe when he metamorphized into that monster in the "Thriller" video, he was giving us a glimpse of the horror within. Or maybe he was telling us something even more personal when he sang: "I'm gonna make a change for once in my life. ... I'm starting with the man in the mirror. I'm asking him to change his ways. And no message could have been any clearer. If you want to make the world a better place, take a look at yourself. And make a change."
Perhaps he was that Man in The Mirror [YouTube link], who was incapable of taming the monster within. Perhaps not. All I know is that my heart broke when I heard of his death on the radio ten years ago this day, and my heart breaks today every time I hear one of his songs. I can't erase what he did or may have done to those children, but I am equally incapable of erasing the part his music played in my life. And so, today, I can only be brutally honest: I highlight one of his recordings as my "Song of the Day"---"Who Is It?"---still wondering who he really was, but unflinching in my appreciation of his artistry.
Song of the Day: Summer of '69 features the words and music of Jim Vallance and Bryan Adams, who recorded this song for his 1984 album, "Reckless." New York City celebrates the Summer Solstice, which comes to the Northern Hemisphere at 11:54 a.m. (EDT)---which means that Notablog begins its Fourth Annual Summer Music Festival (Woodstock Fiftieth Anniversary Edition). I'm not here to debate the moral underbelly of the "Apollonian" moon landing (which, as a child who grew up in awe of the space program, I will also celebrate in song) versus the "Dionysian" mudfest that was the Woodstock Music and Art Fair, as Ayn Rand once contrasted these events (though Jeff Riggenbach once called the Woodstock generation among "the disowned children of Ayn Rand"). This year's festival will run mostly on a weekly basis from the first to the last day of summer. It will place special emphasis on the participating Woodstock artists and the songs they recorded in that era. With some notable exceptions (marking a few birthdays, for example), Notablog will also mark the Golden Anniversary of some of the defining events of the Summer of '69. Our first song is not from that era, but its very title speaks to the year of our focus---when I was only nine years old---though Adams himself has long maintained that the number "69" in the title had less to do with the year and far more to do with a particular love-making position. This single went to the Top Five on the Billboard Hot 100 in June 1985; check out the Bryan Adams recording [YouTube link]. As is customary, I will open and close our annual Music Festival with songs from the same artist, so don't forget Bryan, since we'll be returning to him on the last day of summer (it was Chubby Checker who bookended the 2018 Notablog Summer Music Festival).
Today, the first day of summer, is Cali's birthday. She has now officially reached the Terrible Twos. But her mischief has been present since the beginning. Wherever she sits becomes a new place to relax---when she's not chasing after one of her balls, feathers, or pistachio nutshells. Here are just a few pics of our little baby doing her own thing.
<![if !vml]>
<![endif]>
Open a dresser drawer, and it becomes Cali's bed...
<![if !vml]>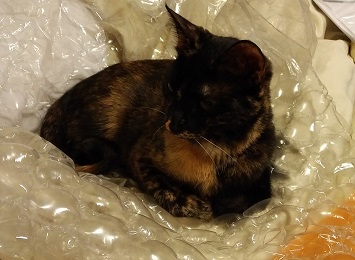 <![endif]>
Even bubble wrap becomes Cali's bed...
<![if !vml]>
<![endif]>
Even a Petco Plastic Bag becomes Cali's bed...
<![if !vml]>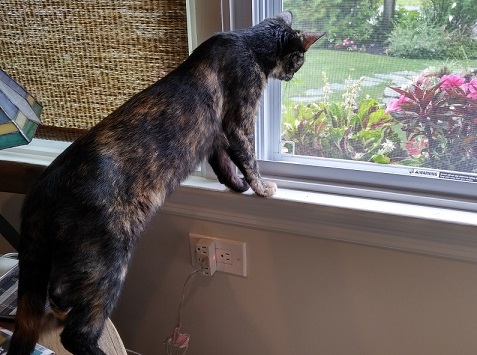 <![endif]>
Is it a bird? A fly? Curious Cali...
<![if !vml]>
<![endif]>
Oh... time to wash the dishes!
We wish our little, lovable Cali-co many more happy and healthy returns!
Song of the Day: Big City Blues, words and music by Adrienne Anderson, appears on "2:00 AM Paradise Cafe," Barry Manilow's fourteenth studio album. In what is one of his best albums, the artist---who turns 76 today---brings together a host of jazz musicians, including pianist Bill Mays, baritone sax player Gerry Mulligan, drummer Shelly Manne, bassist George Duvivier, and guitarist Mundell Lowe, whose pleasant pickings can be heard at the beginning and end of today's recording. The 1984 album is one of Manilow's finest, including the gorgeous "When October Goes," based partially on an unfinished lyric from the great Johnny Mercer and a melody composed by Manilow. The album also includes two wonderful duets: one with the Divine One, Sarah Vaughan, and the other---today's Song of the Day---with Mel Torme, who left us twenty years ago (June 5, 1999). Check out this Manilow and Mel duet [YouTube link] in honor of today's birthday boy.
So I've gotten lots of sweet feedback about the really cool cover design that was put together for us with the use of Getty images and templates, but a lot of very nice input from lots of people (Roger found the best image, IMHO), and especially, Suzanne Hausman.
<![if !vml]>
<![endif]>
But take a look at that image. On the surface, it looks like it might be a person whose chains are broken, and who is liberated---The Dialectics of Liberty providing the antidote to the corruption of enslavement as manifested on many levels of generality. And the job of its contributors exhibits their commitment to exploring the context that would both nourish and sustain such liberation (even though few of them agree on the precise nature of that context!).
Take a look at that image a little bit more closely though. The chain links are going up into the sky... like liberated birds. But wait! It's not a bird! It's not a plane! It's not even Superman. The links look like they are in the shape of the letter "M". Could it be that the image itself captures the liberation of dialectical method from (drumroll please): Its conventional connection to Marxism. Who knows!? Who knows what you get out of the cover design!?
What matters most is what you'll get when you open the book, and find that there are essays you'll fall in love with, and other essays that will provoke you to throw the book (or your e-book device) against the nearest wall! Any book that can inspire such diametrically opposed reactions with each passing chapter can't be all that bad!
Lots more to come on the book and its contents; the official release date is still four days away: June 15, 2019.
Enjoy!
Postcript on Facebook [14 June 2019]:
It has been delightful seeing the flow of pics from contributors to The Dialectics of Liberty upon receipt of the book, which officially goes on sale tomorrow. We do have 19 contributors, so I hope the flow of happy pics will continue. I'm glad I had the ba..., uh, audacity, to start this trend upon receipt of the volume earlier this week---despite the fact that I looked like hell (bronchitis, spring allergies, you don't wanna know!). But the "Ben-Hur" T-shirt did help to hype the epic character of the new book!
To those readers who are suffering sticker shock over the hardcover and e-book prices, I once again wish to remind you that there is a 30% off discount flyer available. And we encourage interested readers to make requests to their local public (or private), business, not-for-profit, university and research libraries to stock up on the book. Yes, a much more affordable paperback will be issued in early 2020, just in time for our planned "Authors-Meet-Readers" moderated discussion (which is likely to take place right here on Facebook). But this is one book worth having, if I may say so myself, given the diversity of perspectives that it encompasses.
Indeed, I encourage these early celebrations, because the critical blowback should begin soon. After all, there are not many volumes that will inspire the reader to fall in love with one chapter, only to be tempted to throw the book (or their equivalent e-book devices) against the wall in disgust with the very next chapter. Yet, that's the nature of the "Big Tent" approach of "dialectical libertarianism," which embraces no single party line; it spurs critical dialogue among its adherents (indeed, "dialectic" is cognate with "dialogue").
Enjoy!
Postscript (19 June 2019): In a lively discussion of the contents of the book, the contributors have all been admiring the fact that there is so much "disagreement" in the volume. Some lamented the absence of essays from contributors who are no longer with us, like, for example, my dear friend, the late Don Lavoie. I added these further thoughts, which I share with Notablog readers:
I'm sorry to say that we actually got the rights to include in our collection an essay by the late Don Lavoie, "The Market as a Procedure for the Discovery and Conveyance of Inarticulate Knowledge," but as many of you know, we were forced to go back to the drawing board of our prospectus and cut back dramatically on previously published essays. Don was a very dear friend of mine and a trailblazing thinker. But with Lavoie's essay ending up on the cutting-room floor, I deeply appreciated Nathan Goodman's contribution to our volume!
Only three previously published essays exist in our collection and at least two of them were reworked for the anthology (the essays by Stephan Kinsella and Deirdre McCloskey). While many of the other essays summarize points of previously published works, the bulk of them are original to the volume. And lo and behold, Roderick Tracy Long is right: There is no massive agreement among those who think dialectically in this volume. Which makes this a living project ... open to much growth in the future! All of you here made that possible and I can't thank you folks enough for all the work you did.
There really is a treasure trove of material that could be anthologized in a collection of Don Lavoie's essays. Aside from being a very dear friend of mine, Don and I had somewhat parallel paths while we were at NYU: he was in the Economics Department pursuing a Ph.D. with Austrian economist Israel Kirzner as his dissertation advisor and Marxist James Becker on his dissertation committee; I was in the Politics Department pursuing a Ph.D. with Marxist Bertell Ollman as my dissertation advisor and Austrian economist Mario Rizzo on my dissertation committee. Don not only encouraged my work with dialectical method, but was probably the very first professor to adopt one of my books (Marx, Hayek, and Utopia) for one of his courses on Comparative Economic Systems.
It is with great pleasure that I announce today not only the contents of the new July 2019 issue of The Journal of Ayn Rand Studies, but the debut of our new home page!
The journal made its first appearance in the early Fall of 1999, so, technically, we are entering our twentieth anniversary year; but we are beginning our nineteenth volume with a July issue that provides some hefty discussions of some very interesting philosophical issues. With our December 2019 issue already in the works, we are, in fact, planning out our two 2020 issues, which will officially mark our twentieth anniversary. Imagine that!
We are actually approaching two decades of providing a double-blind, peer-reviewed, interdisciplinary, biannual, university-press-published (since 2013) periodical focused on Ayn Rand and her times. When Bill Bradford proposed this idea to me more than twenty years ago, I thought he was crazy! But here we are... moving forward still, with a journal that provides a safe scholarly haven for people coming from remarkably different critical and interpretive perspectives, covering virtually every aspect of Rand studies imaginable---from nitty-gritty discussions on Rand's ethics and aesthetics to engagement on "Rand among the Austrians" and enlightening dialogue over the cultural impact of Rand on progressive rock!
Back in 2016, when we published our first double issue (the first book-length symposium on "Nathaniel Branden: His Work and Legacy"), we unveiled a brand-new website, re-designed by our original webmaster, Michael Southern, who had been with us from the beginning. Michael was a dear friend of nearly forty years and transformed our original site with a custom-made template for a new site that made its debut with that symposium. Michael actually provided a centerpiece essay in that symposium, "My Years with Nathaniel Branden," which told the very personal story of his relationship with Branden, first as a client, then as an intern and associate, and, finally, as a friend.
Sadly, tragically, my dear friend was killed in September 2017. With his death, so too died the custom template he developed for our website. He was poised to re-do my own home page, and told me we had "time" for him to share the JARS template with me so that I could easily update it on my own. Alas, we took much for granted. With Michael gone, I tried to maintain the site, but found it increasingly difficult.
I count my blessings that I have come to know many beautiful, honorable, decent, kind, and generous human beings in my life; Michael was one of them.
So too is my dear friend Peter Saint-Andre, who stepped up and completely re-constructed the site, retaining aspects of Michael's design, integrated into a new template, knowing full well that we required a practical plan moving forward for the years to come. I truly cannot quite find the words that would adequately express just how deeply I appreciate Peter's hard work throughout all these months. He is truly a Saint(-Andre)!
JARS readers will recall Peter's long-time relationship with the journal as well. He contributed essays as far back as Volume 4 (2002-2003) ("Conceptualism in Abelard and Rand"; "Zamyatin and Rand"); Volume 5 ("Saying Yes to Rand and Rock," a contribution to the journal's symposium, "Rand, Rush, and Rock"); Volume 7, Number 2 ("Image and Integration in Ayn Rand's Descriptive Style"); Volume 9, Number 1 ("Ayn Rand, Novelist"---a review of The Literary Art of Ayn Rand); and Volume 10, Number 2 ("Nietzsche, Rand, and the Ethics of the Great Task," a contribution to the journal's "Symposium on Friedrich Nietzche and Ayn Rand"). In fact---of great interest to this particular editor, with Peter's current program of deep research into Aristotle (see here, for details), his interests extend to the role of dialectic in Aristotle and how it compares with dialectical libertarianism.
Take a look at the new site and all that it has to offer. Welcome back to: The Journal of Ayn Rand Studies.
And while you're visiting, take a look at the new July 2019 issue!
<![if !vml]>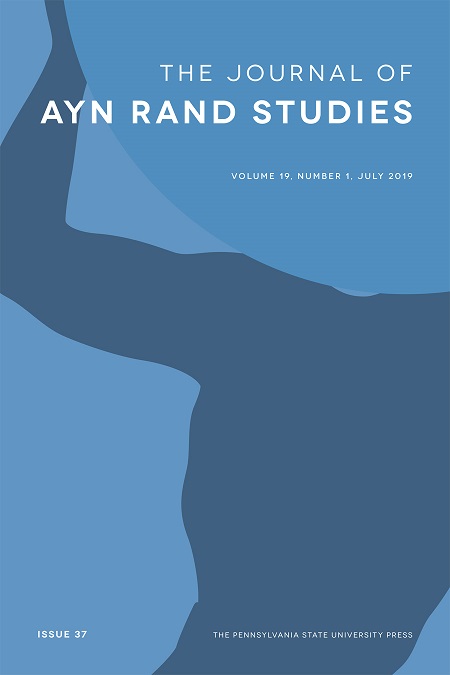 <![endif]>
The abstracts for the essays in the new issue can be found here and the Contributor Biographies can be found here. Here is the Table of Contents of the new issue:
Foundational Frames: Descartes and Rand - Stephen Boydstun
Ayn Rand's Credit Problem - Lamont Rodgers
Ayn Rand and the Lost Axiom of Aristotle: A Philosophical Mystery---Solved? - Roger E. Bissell
The Return of the Arbitrary: Peikoff's Trinity, Binswanger's Inferno, Unwanted Possibilities---and a Parrot for President - Robert L. Campbell
As I have vowed since the very first issue of this journal, every issue would bring aboard at least one new contributor to the JARS family of authors. This issue, it is Lamont Rodgers whom we welcome to our pages. And we thank each of the contributors for providing such thought-provoking essays as we begin our nineteenth volume.
I would like to remind prospective contributors to submit their original essays through our Editorial Manager interface provided by Pennsylvania State University Press. And those looking to subscribe to print and/or online editions of the journal can find additional information here. The new issue will soon be making its debut on JSTOR and Project Muse, with print copies going out to subscribers in the weeks to come.
My thanks to all of those who have supported this journal through the years. We are happy to be entering a new phase of our development.
Song of the Day: The Music Man ("Seventy-Six Trombones"), music and lyrics by Meredith Wilson, is one of the rousing highlights from this 1957 Tony Award-winning musical, starring Robert Preston (who won for Best Performance by a Leading Actor in a Musical) and Barbara Cook (who won for Best Performance by a Featured Actress in a Musical). The cast album would go on to win a Grammy Award for Best Musical Theater Album. In October 2020, a revival of the musical, starring the irrepressible Hugh Jackman, will make its debut on Broadway. (Jackman actually performed "Rock Island" [YouTube link] with LL Cool J and T.I. on the 2014 Tony Awards, giving us a glimpse into the "rap" nature of one of the classic opening numbers to the musical!) Check out the original Broadway cast version of today's song from the musical and the 1962 film version [YouTube links], both led by the great Robert Preston. And I'm one to enjoy even one [YouTube link], let alone seventy-six, trombones. Enjoy the Tony Award's celebration of the Broadway stage tonight!
It Arrived!
My New Ben-Hur T-Shirt!
Oh, and so did my very first hardcover copy of The Dialectics of Liberty: Exploring the Context of Human Freedom, co-edited with my friends and colleagues Roger E. Bissell and Edward W. Younkins.
<![if !vml]>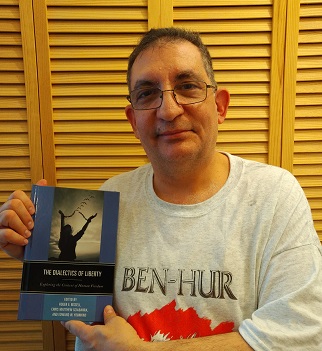 <![endif]>
Don't laugh. I'm trying to stand still in that photo, and not to Jump, Jive, an' Wail!
Song of the Day: Cabaret ("Maybe This Time"), music by John Kander, lyrics by Fred Ebb, was one of the winning songs not included in the original 1966 Broadway musical, which nonetheless won a total of eight out of the eleven Tony Awards for which it was nominated: Best Musical, Best Direction of a Musical, Best Original Score, Best Performance by an Actor in a Featured Role (Joel Grey), Best Performance by an Actress in a Featured Role (Peg Murray), Best Choreography, Best Scenic Design, and Best Costume Design. I wasn't fortunate enough to see the original Broadway production, but I did see its absolutely spectacular 1998 revival, which won Tony Awards for Best Revival of a Musical, Best Performance by a Leading Actor in a Musical (the stupendous Alan Cumming), Best Performance by a Leading Actress in a Musical (Natasha Richardson), and Best Performance by an Actor in a Featured Role (Ron Rifkin)---four awards out of a total of an additional ten nominations. The musical derives from the 1951 play, "I Am a Camera," which itself was adapted from the short story by Christopher Isherwood, Goodbye to Berlin. This song made its way from the film into the musical revival and it remains one of its highlights, sung by the character Sally Bowles. Check out the rendition sung by Natasha Richardson in the 1998 reboot, and, of course, the Oscar-winning Best Actress performance of Liza Minelli [YouTube links], in the Bob Fosse-directed 1972 film adaptation. Today starts a two-day tribute to the 2019 Tony Awards, hosted by James Corden, which will air on Sunday, June 9th, on the CBS Network.
Song of the Day: Le Grind, composed by Prince, is from his "Black Album" (aka "The Funk Bible"), which was recorded in 1986-87, but not released until 1994, largely because the artist believed it was created under the influence of an "evil" demonic entity "Spooky Electric." With all honesty, it's hard to figure out precisely what was so evil about this funk-heavy track with the same sensuous lyrics we'd all come to expect from The Artist. Despite his tragic death in 2016, his music lives on. Today would have been his sixty-first birthday. Check out the rare track on YouTube.
Song of the Day: I Love You, words and music by Cole Porter, was the #1 song on this day, June 6, 1944, for the fifth week in a row, as sung by Bing Crosby with John Scott Trotter and His Orchestra. The song came from Porter's 1944 stage musical "Mexican Hayride." It was first recorded by Wilbur Evans (who played the character David) in that musical, but it was Bing Crosby's recording of the song that took it to the top of the charts. This weekend, other musicals will be honored at the Tony Awards. But it is of particular interest that the American public had embraced a sentimental song of love for the five weeks leading up to the Allied invasion of Normandy, the largest air, land, and sea invasion in human history that proved to be the beginning of the end of World War II. That war, which led to estimated fatalities of 70 to 85 million people, may have signified the "nadir of the Old Right"---but it also brought forth the intellectual seeds of a libertarian resurgence in the decades to come. Nevertheless, I post this song today as an expression of love to my own family members who fought and died in that most horrific of wars, and in honor of those who survived that battle on the beaches of Normandy, and who have returned to those beaches today, to mark the seventy-fifth anniversary of that invasion, knowing that, in the words of Herman Wouk: "The beginning of the end of war lies in remembrance." Check out the original Wilbur Evans version of this song and the #1 Bing Crosby hit [YouTube links] that serenaded Americans at home, who listened to the music on the radio, with news bulletins that, they prayed, would move the world one step closer to peace.