This essay, published on Wednesday, September 11, 2019, is exclusive to Notablog.
This installment was also noted by Ilana Mercer on Barely a Blog, Irfan Khawaja on Policy of Truth, and Freedom News Daily.
[REMEMBERING THE WORLD TRADE CENTER: 2001; 2002; 2003; 2004; 2005; 2006; 2007, 2008, 2009, 2010, 2011, 2012, 2013, 2014, 2015, 2016; 2017; 2018; 2019; 2020; 2021]
ZACK FLETCHER:
TWIN TOWERS, TWIN MEMORIES
By Chris Matthew Sciabarra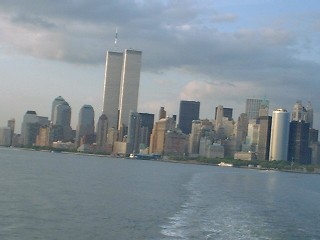 The Twin Towers, from the Staten Island Ferry, May 12, 2001
Photograph by Chris Matthew Sciabarra
Fraternal twins, Zackary and Andre Fletcher, were born on February 25, 1964, to Lunsford and Monica Fletcher, in the East New York section of Brooklyn. Zackary (or Zack as he prefers to be called) was a mere two minutes older than his brother. Those two minutes did nothing to dull the depth of their connection to one another. "Andre and I were the epitome of what defines twins," Zack recalls. "Although we were brothers, there is a special bond and connection that only twins can understand. We are actually closer than the typical brother and brother, sister and sister, or brother and sister. There is this magical, unseen connection that only someone who is a twin can understand. There would be times when I would be singing a song in my head and he would start whistling the very same song. There would be times when we'd try to figure a solution to a problem and we'd come up with the same exact solution without any spoken word. It was all thought processes."

Zack has a large family---a big contingent of cousins that still live in Jamaica, the West Indies, and throughout the United States and the United Kingdom. But from the earliest moments of their childhood, their very special familial bond took shape; the twins were inseparable and followed parallel paths. They both attended Junior Academy, a private school located in Brooklyn, from kindergarten to eighth grade. Zack went on to Brooklyn Technical High School in 1978. Andre would later join Zack and they graduated together from Brooklyn Tech in 1982. Upon graduation, Zack attended the New York Institute of Technology for a year, studying Architecture, but eventually took some time off to work---before transferring to SUNY at Old Westbury to study Computer Science. In 1994, on the precipice of graduation, Zack was called to join the New York Police Department (NYPD) as a Police Officer as well as the Fire Department of New York (FDNY) as a Firefighter. "I ultimately decided to choose the FDNY, which is a choice that I have never ever regretted." He is currently employed with the New York City Fire Department Bureau of Fire Investigation (FDNY-BFI), with the rank of Arson/Fire Investigator (also known as Fire Marshal). "In essence, the Bureau of Fire Investigation is the Law Enforcement Division of the New York City Fire Department (FDNY) and it is responsible for conducting and investigating the origin and cause of fires that occur in the City of New York."
Writer David Kohn tells us (in an October 4, 2001 CBS News story, "One Twin Waits") that the brothers had expressed their dual desire to join the fire department from the time they had graduated kindergarten. As it happened, Andre would join the FDNY first in January 1994, a full seven months prior to Zack's hiring. Andre was stationed on the northern tip of Staten Island, near the Verrazzano-Narrows Bridge, as a member of Rescue 5. Zack was stationed at a Lower Manhattan firehouse, Engine 4, Ladder Company 15.
Competitive as both youngsters and young adults, they were practically inseparable. They did almost everything together. Each bought motorcycles and, later, each purchased cars at police auctions, which they lovingly restored. And as they grew to maturity---at 6' 2" tall and glowingly handsome---they were even approached by a talent scout, who was convinced they'd make it in Hollywood. It led to a photo shoot, where each wore the jersey of their choice (see the final photo below). In fact, each of them played on both the FDNY football and baseball teams; in football, each of them served as both Defensive Backs and Wide Receivers. And Andre went so far as to become the president of the FDNY baseball team!
But being in the fire department was certainly not all fun and games. And so it was on this date in 2001, that the parallel paths of two loving brothers took a unbearably jarring turn.
On the morning of September 11, 2001, Andre was not scheduled to work the Day Tour, but ended up working an Overtime Tour. Zack was scheduled to work but switched tours with a co-worker who was slated to retire within the year. His co-worker owed him a tour shift, so Zack made sure to call it in so as not to lose it. It didn't matter, of course, because before the day was out, every able firefighter in New York City was called to duty to attempt to save the lives of thousands of people who were in the Twin Towers, struck by terrorists who had turned passenger jets into weapons of war. Sadly, Zack's co-worker, Thomas W. Kelly, on the verge of retirement, would be among those lost at Ground Zero.
The events of the day began rather unceremoniously given that Zack had the opportunity to sleep in, expecting a day off. He was with his girlfriend at the time, and when they turned on the TV in the morning, they recognized that some kind of "big incident" was unfolding in lower Manhattan. The North Tower of the World Trade Center had been struck by some kind of plane. Within moments, the South Tower suffered a similar fate. Reports were coming in via television and radio broadcasts "that all off-duty firefighters and police officers were being recalled to duty and to report to their Commands." Ironically, Zack's girlfriend at the time was a New York City police officer. So "upon getting notification regarding the recall, we both made our way via her vehicle to Manhattan where our work Commands were located, which were approximately one mile apart from each other." But virtually all of New York City's roadways were locked down; they were only able to get into Manhattan "by piggybacking ... closely behind the convoy of Emergency Vehicles. ... Upon arriving at the road entrance to the Brooklyn Bridge, we saw that there was no vehicle traffic being allowed to cross." Showing their IDs, they were able to get access to the bridge, and Zack made his way to the firehouse.
When he arrived, he realized that both units of the firehouse were already gone, having been called down to the Twin Towers. "Upon arriving there, I realized that both units were out of quarters and must have been down at the scene of the incident." Engine 4, Ladder Company 15 was approximately three-quarters of a mile away from the World Trade Center. Zack donned his firefighting gear and began to walk down to the scene. Just as he was about to leave, an FDNY Fire Captain, who was not assigned to his unit or his station, grabbed some gear assigned to one of the fellow members of the station and put it on. He followed the Fire Captain, but as they started moving toward the scene, a walk that would take at least fifteen minutes, Zack realized about five minutes in, that they "should probably grab a few extra Air Breathing Tanks in the event that they were needed." The Captain agreed, and Zack returned to secure some tanks. Eighteen years later, Zack can recall the moments almost minute-by-minute: He remembers that it took him about five minutes to head back to the firehouse, another three minutes to gather the tanks and to devise a way to carry three or four of them, "by procuring a small hose strap and tying the bottlenecks together." He made his way back to the Captain, which took him another 8 minutes---and the Captain assisted him in carrying the air bottles. They were nearing the immediate area, still blocks away from the Towers; the clock ticked toward 9:59 a.m.
"As we were walking down what I believe was Dey Street toward the North and South Towers, we heard an ungodly sound like the onrush of a freight train. We were being accompanied by a few police officers in the area and upon hearing the sound, which seemed to be coming toward us, we all dove into the side entrance of a building that I believe was the Century 21 Building. It appears that that decision ... probably saved our lives---as all we saw rushing by was debris ... [coming] from the collapsing [South] Tower."
Like so many other witnesses to this disastrous event, Zack felt that there was a surreal quality about it. It's as if everything was "moving in slow motion. ... At that very moment, I wondered if I was actually [having] a very bad nightmare or if this was real. As a child, I always was told that if you pinch yourself in your dream, [you'll] wake up because the pain will take you to a different place. The crazy thing is, that I pinched myself and it hurt---and I was still in the same place." As the dust started to settle down, Zack looked around. All he could see through the dissipating cloud of debris, was burning vehicles, skeletons of fire trucks that were burned beyond recognition, "where half the fire apparatus was still intact," while the other half was "burned down to the metal."

"I remember Squad 252's vehicle as being one of those skeleton fire apparatuses, and I wondered if my good friend Tarel Coleman was OK and alive. I kept telling myself: 'How the hell could anybody survive this?' Especially, if they were in the Towers or anywhere near it." Tarel would not be among the survivors.

A sudden, shuddering thought then hit him, as sharply as any of the debris from the fallen South Tower. "I thought about my brother and where he would've been with his unit. I had just spoken to him approximately an hour before while I was making my way in with my girlfriend. We both had Nextel phone/walkie-talkies and I made sure that he was OK and he told me that he was on his way in and they were at the mouth of the Brooklyn Battery Tunnel on the Brooklyn side getting ready to enter it. The funny thing is that I was going to take the Battery Tunnel myself and when I saw the traffic, I ... headed toward the Brooklyn Bridge through the local streets. But I saw a Rescue Company 5 Rig waiting to get into the tunnel. My brother said to me, 'Make sure you make it down there to your Fire Station and I'll meet you down at the scene.' That is when I told him, 'Look, I know how you Special Operations guys work. Stay focused and don't do anything stupid to try and be a hero.' He chuckled and said 'I'll see you in a bit.' I then told him, 'Fine, I'll see you down there and please be safe.'"
Zack reflects: "That was the very last time I ever heard his voice."
By the time the second (North) Tower had collapsed, Ground Zero "was so chaotic" and firefighters who "were assigned to certain units got separated and were all over the place." It was not until much later in the day that he discovered that his brother was missing. Throughout the day, the firefighters were "organized into search teams and ... went from every area, attempting to get into voids of collapsed buildings, putting out smaller fires," searching for signs of life and "not really finding anything." The surrealism of what lay before him was compounded as Zack thought of similar images from movies and documentaries of carnage, "in places like Beirut and similar places of war."

After about nine hours on the smoldering Pile, Zack returned to his firehouse to rest. "I was so extremely exhausted and my skin felt like it was crawling with the dust, dirt, and debris from the incident." But the inescapable "traumatizing thought" that haunted him, as he pondered the fate of Andre, was that his brother was "trapped somewhere or worse"---"gone." It "was so overwhelming," Zack recalled, "and the only way I suppressed those thoughts was to think positively, telling myself that there was no way he could be gone. He was my twin, my womb buddy, my best friend, my brother and how could I go on living without him. Every day, we would talk in one way or another, approximately five-ten times per day. So I had to think positively, giving him the absolute benefit of the doubt that he was alive."
In the midst of this emotional turmoil, Zack continued to work with his brothers of the FDNY, which had "instituted an emergency work schedule where all members would work 24 hours on and 24 hours off---and continued such a schedule for many months." But within a week, the Search and Rescue effort became a Recovery effort; it was then that Zack began "to recognize that [his] brother probably was not with this realm anymore."
Besides his brother Andre, Zack "knew many of the people that died that day. Just from my firehouse alone, I lost fourteen coworkers." He also lost a very close friend, firefighter Michael Thomas Weinberg, who worked in a midtown firehouse. The day after the attack, Weinberg's body was recovered. Zack called Weinberg's cell phone thereafter, and left a heartfelt message, through the tears, as related to writer David Kohn: "I said 'I know you'll never hear this message, but I just want to let you know how much I loved you, and how much you meant to me.'"
Such was not the case with Andre. On September 11, even after the Twin Towers had collapsed, Zack continued to try reaching his brother via two-way radio. It was still chirping---meaning that a signal was going through---but Andre wasn't picking up. By 1 pm on that fateful day, the chirping ceased and a message appeared on his phone: User Not Available.
Andre was gone. He perished in the collapse of the South Tower. Till this day, his remains---along with those of 1,109 other victims of the WTC tragedy---have not been identified, though with advancing gene technology, there is still hope that someday they will.
343 members of the FDNY were killed that late summer day in September 2001. "Many people think that they were all firefighters, however only 341 were firefighters, the other 2 were Paramedics assigned to the FDNY EMS Division. I knew approximately 123 of them personally in one form or another."
Asked if he has experienced any "survivor guilt" from the events of that day, Zack strongly asserts: "I don't know why, but I just did not. I also knew that my brother was the type of individual who loved life and he loved life living with me being a part of it and now that he was gone, he'd want me to live that life for the both of us. What's crazy about the whole situation---which helped me deal with it better than most---is that we attended a funeral three months earlier for three firefighters who died during the Father's Day fire [which occurred on June 17, 2001 in Astoria, Queens]. During that time---and being that we had both been professional firefighters for over seven years with the most famous Fire Department in the world---the both of us had a moment of clarity and recognized that this could happen to either one of us. It was at that time that he turned to me and stated that if anything like that happened to him, he wanted me to look after his son as if he was my own. I said the same thing to him with regard to my daughters if anything happened to me."
Eighteen years have passed "since this unfathomable tragedy," Zack states, "and there is not one day that goes by that I do not replay it over in my head." As one of the First Responders who survived the collapse of the Towers, and one of those who lost a twin brother in the process, Zack admits that he does "suffer emotional and psychological issues as a result." But due to the extraordinary efforts of the mental health professionals at the FDNY Counseling Service Unit (FDNY CSU), starting four months after 9/11, Zack learned how "to deal and to manage the emotional and psychological issues." These issues manifested themselves immediately after the tragedy, but he was not fully aware of it until he had returned from vacation in January 2002---when he was compelled to take and use his vacation time. After being away from "the constant 'automation' of going to work," reporting to Ground Zero to continue "digging and sifting through the rubble looking for any signs of human remains and/or evidence of the attack, as well as my duties of protecting the City and responding to calls, I ended up displaying signs of heightened anxiety feelings (panic attacks) upon responding to fire calls in the area. I was forced by my Officer to be relieved from full duty and put on Leave. I ended up being detailed to the counseling services for nine months thereafter and being treated through counseling and therapy from the Certified Social Workers, Psychologists, and Psychiatrists there. I must admit that I was quite intimidated and reluctant to receive any help from them. I always thought I was too tough or too manly to need any help from any mental health professional. How wrong I was. It is because of them that I was able to hold onto my sanity."
Over time, however, he requested to go back to full duty at the firehouse, despite the fact that he was designated for WTC Leave. Zack "adamantly told them that I was going crazy and felt that I was not doing my part in helping to find my fellow brothers who had lost their lives and that I needed to go back. They then put me back to full duty." Till this day, however, "there are times when I do experience dreams and mild nightmares of the incident." His grief and pain over the loss of his twin brother stays with him. But he is comforted by the fact that Andre was one of the reasons why so many people---over twenty-five thousand---were saved before the Twin Towers collapsed. Andre had nobly "sacrificed his life so others could live."
He is grateful too that he has not as yet suffered "any type of physical ailments or problems" and he hopes that he never does. "Fortunately, for me, I was wearing my respirator mask 95% of the time when I was down there even though the government was telling everyone that the air was fine to breathe. I knew that to be a lie especially since I was a medic and knew that everything that was in the air from those collapsed buildings included pulverized glass, pulverized asbestos, pulverized bodies, and so many other hazardous materials. I see so many of my friends and coworkers that were down there either very sick or dead from the World Trade Center illnesses that they incurred as a result of breathing in that stuff. Hopefully, I will never have to worry about dealing with any of those illnesses." But the thought that he did not wear his mask 100% of the time still gives him pause.
After all, as the New York Post reports: "More than 200 firefighters have died of WTC-related illnesses in the last 18 years."
When Zack looks at the current site---the National Memorial and the Museum---he believes it "is hallowed ground." He is satisfied that nothing was built over the footprints of the Twin Towers. "What they did with the Memorial Waterfalls at the two locations of the buildings as well as the 9/11 Museum was very well planned and done properly. I have been to the site and 9/11 Museum on numerous occasions and will tell you that it still leaves a lump in my throat, takes my breath away, and I definitely feel a spiritual presence" of the lives lost on that day. "It still gives me chills every time I go there. There are times I go just to be in the same area as my brother, where I can talk to him in his resting place."
Though it has been nearly two decades, for Zack, the tragedy is still fresh in his mind, as if it happened just yesterday. "Where did the time go? I miss my brother. I miss him a lot." But the twins had made yet another promise to each other, when they attended the funerals that took place in the wake of the tragic Father's Day fire three months before 9/11. "If anything happened to me, he would live on for the both of us." And vice versa. "I'm living for the both of us. He's now also living through me, and everything I do is as if he were right beside me. Just like when we were younger. We always did things together and I will continue to feel that way and represent that way." For Zack, "Life is way too short and when I live life, I recognize that I am no longer doing it for myself but also for my brother as well."
Andre G. Fletcher was posthumously promoted to the rank of Fire Marshal, the same rank that Zack currently holds. Andre was due to be promoted one week before the 9/11 attack. Because of delays in departmental schedules, promotions did not take effect until approximately one week after the attack. Andre "was assigned posthumously his Fire Marshal's badge and immediately it was retired, never to be put in circulation again except for any family member who would occupy that same rank."

"Upon my promotion in 2012 to the same rank," Zack remembers, "I was asked if I wanted to have my brother's badge number. Without hesitation, I agreed. They told me that once I retired, it will then go back into retirement." Zack knows truly what a profound honor it is to wear the badge his brother was assigned. "As I said, we always do things together."
*****
My thanks to Zack and the Fletcher family for sharing their love by providing this poignant pictorial postscript to this year's WTC Remembrance essay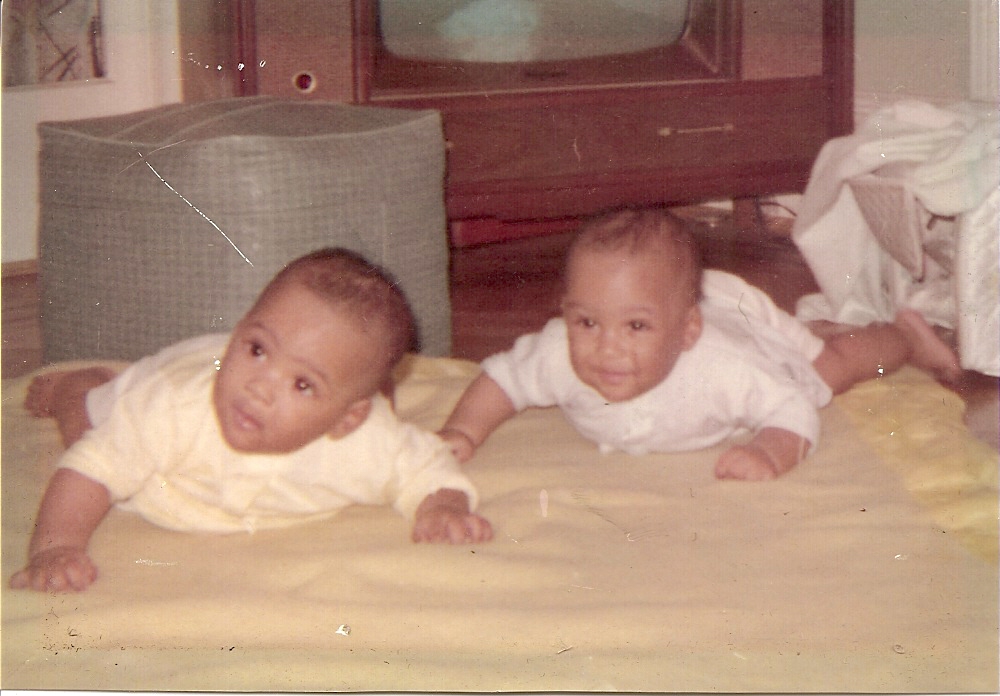 Photo 1: Zack (l) and Andre (r), 6-8 months of age: Not yet walking, but getting there ...
Photo 2: Andre (l) and Zack (r), First Birthday Party.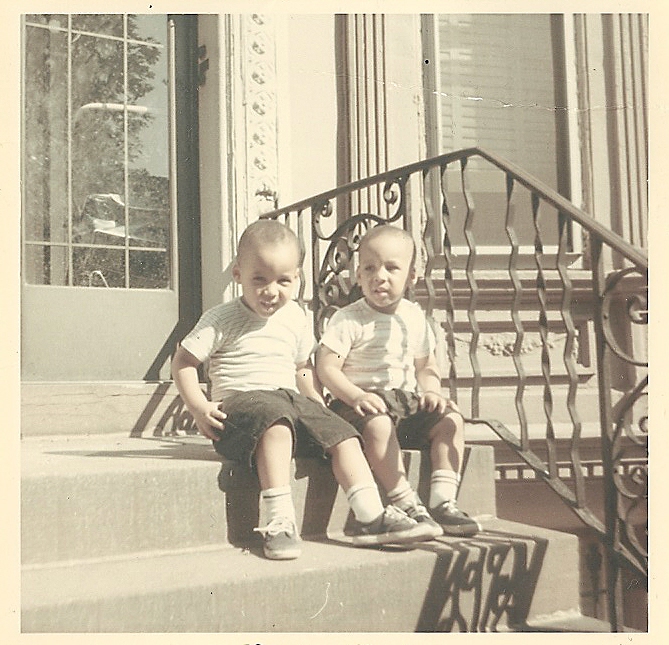 Photo 3: Andre (l) and Zack (r), 3 1/2 years of age, first day of school at Junior Academy.
Photo 4: Zack (l) and Andre (r), almost 4 years old (sitting on the couch).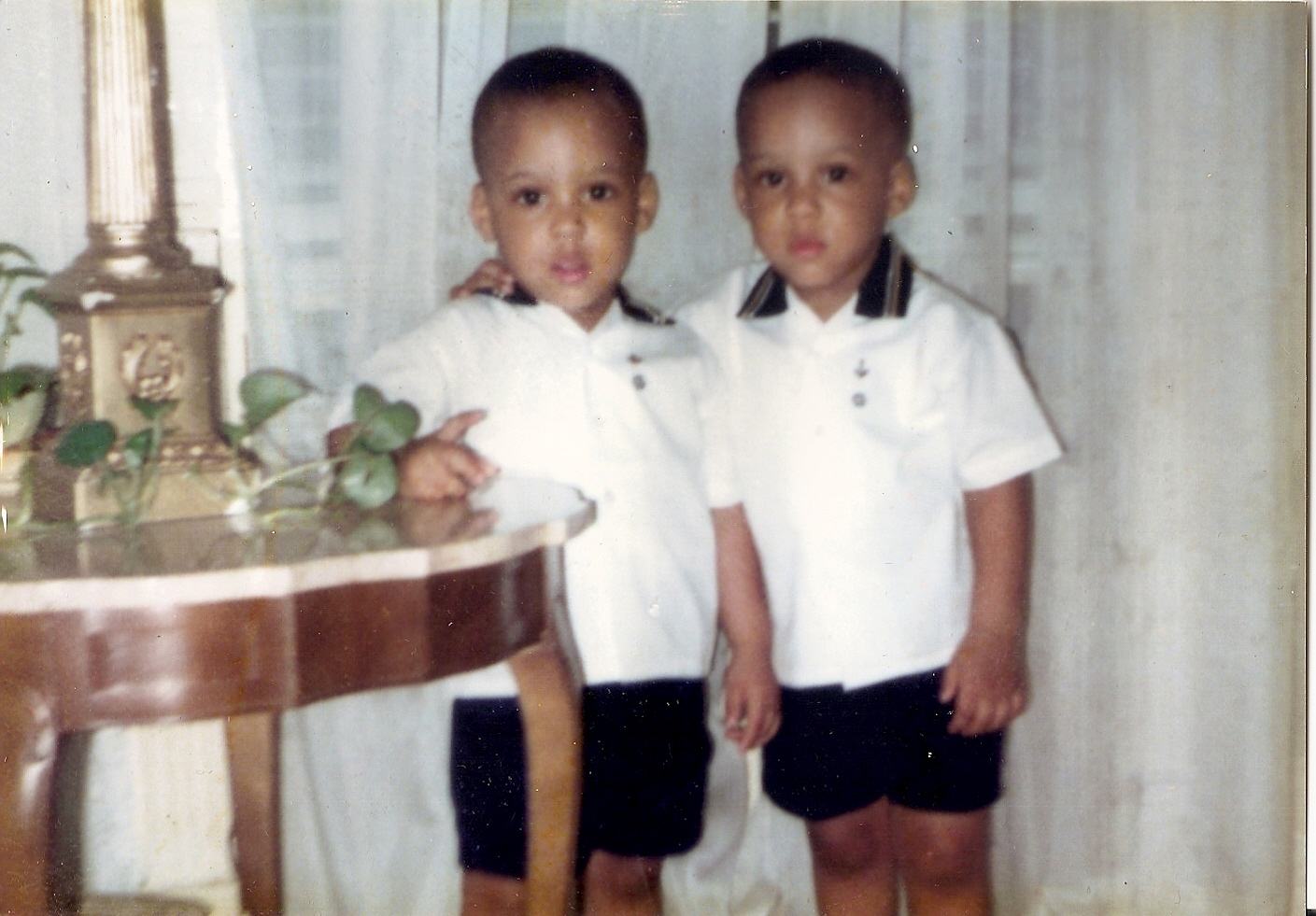 Photo 5: Zack (l) and Andre (r), almost 4 years old, standing together.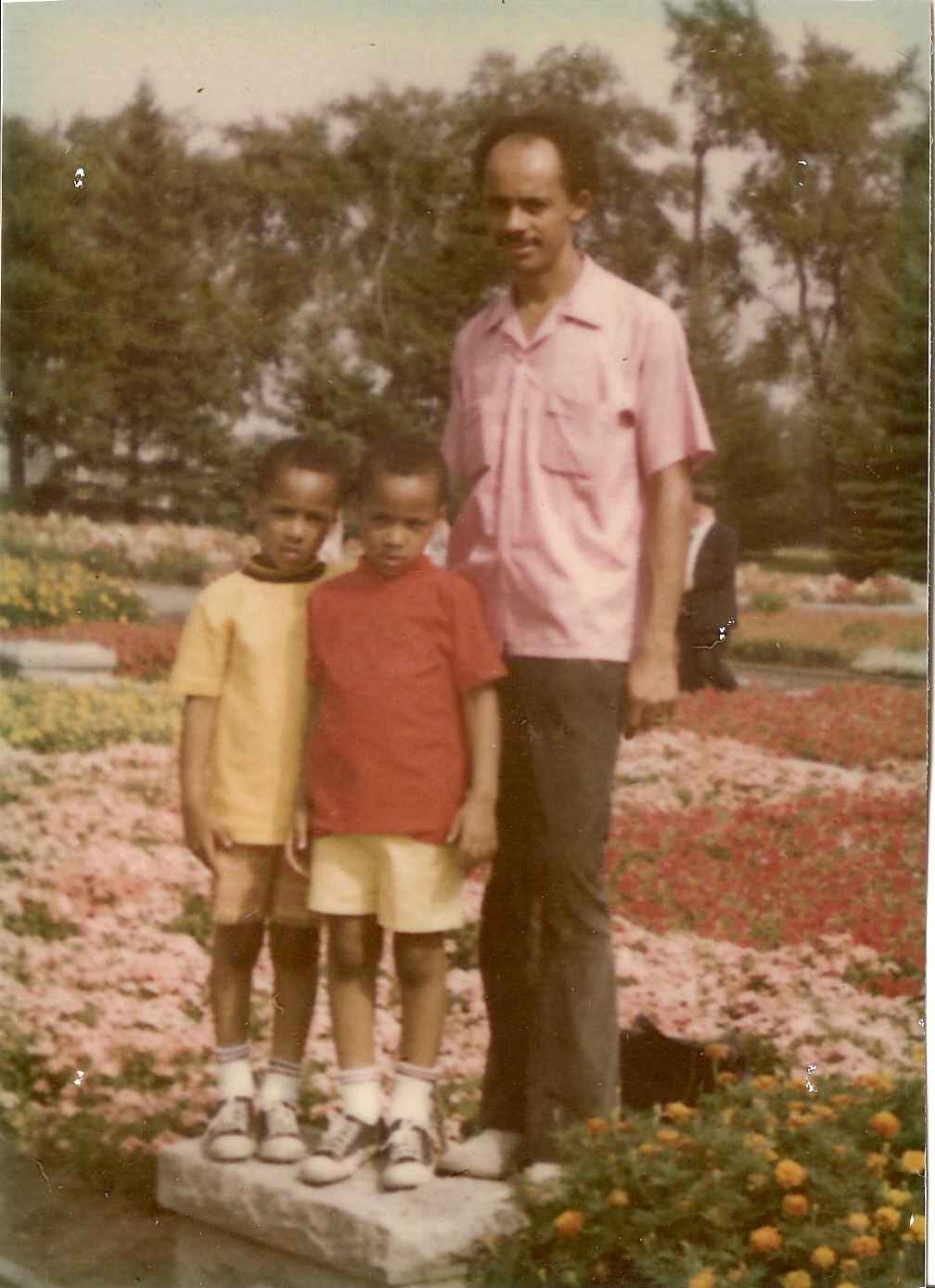 Photo 6: In Jamaica, Andre (l), Zack (center), age 7, with their dad, Lunsford Fletcher (r).
za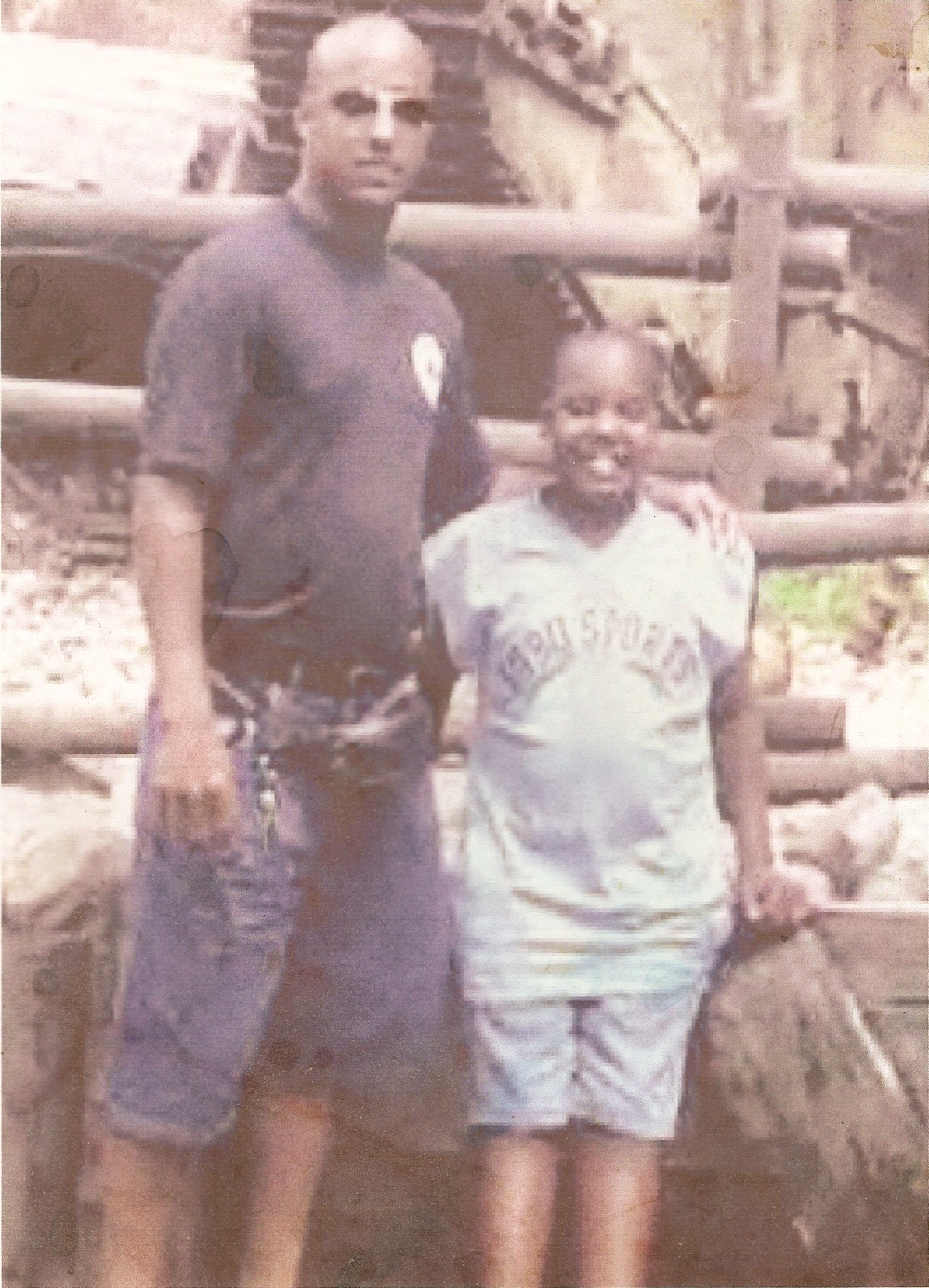 Photo 7: Andre (l) and his son Blair, circa 1999.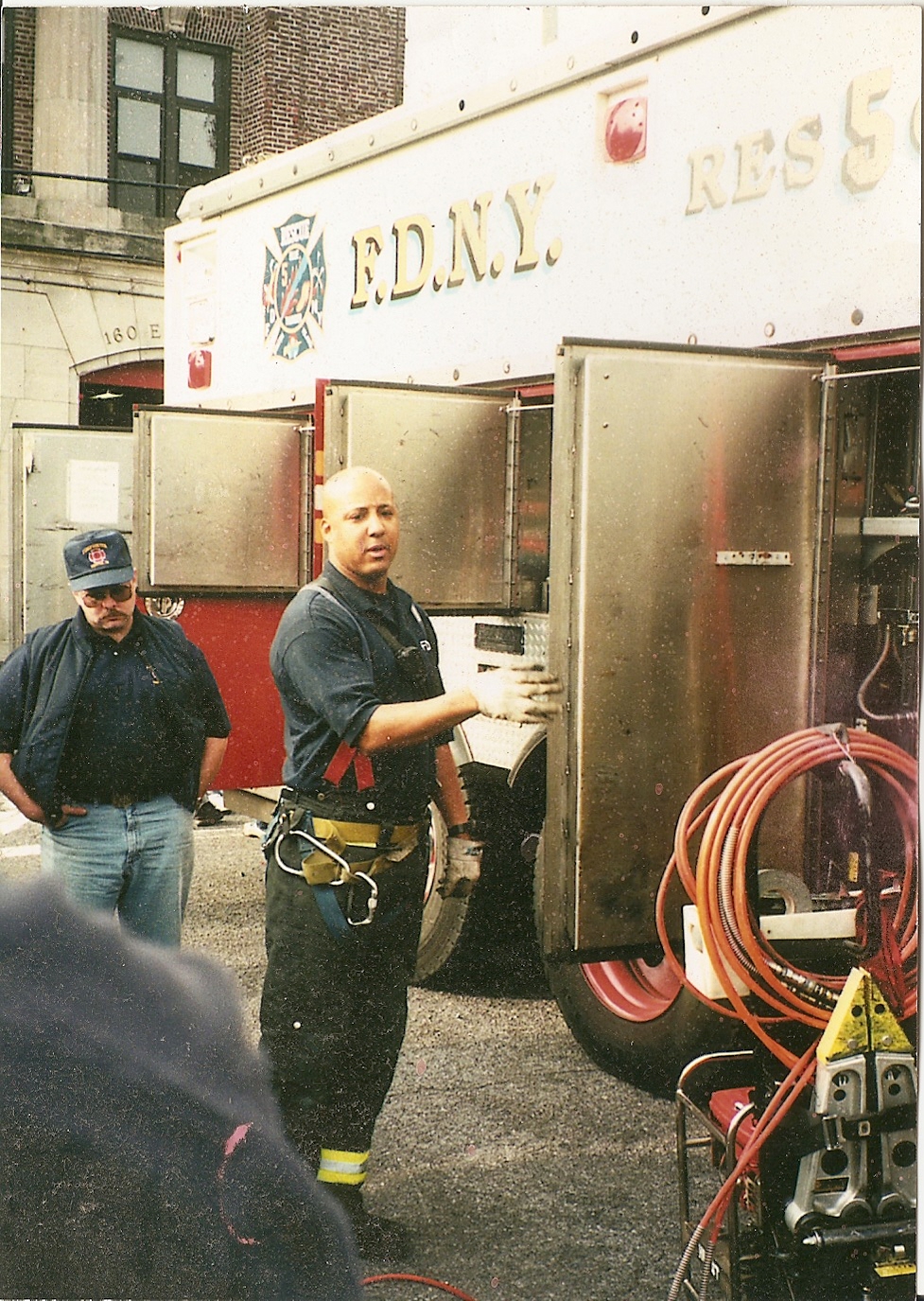 Photo 8: Andre showing off the Rig from Rescue 5 to firefighters from Maryland (circa 2000).
Photo 9: Andre G. Fletcher (media photo, 2000).
Photo 10: Andre (l); Gregg Matthews (firefighter, WA state, center), and Zack (r) --- in attendance at the
funeral held for three firefighters in June 2001, after the Father's Day Fire tragedy in Astoria, Queens.
Photo 11: Zack, 2008, at Ladder Company 132, Prospect Heights, Brooklyn.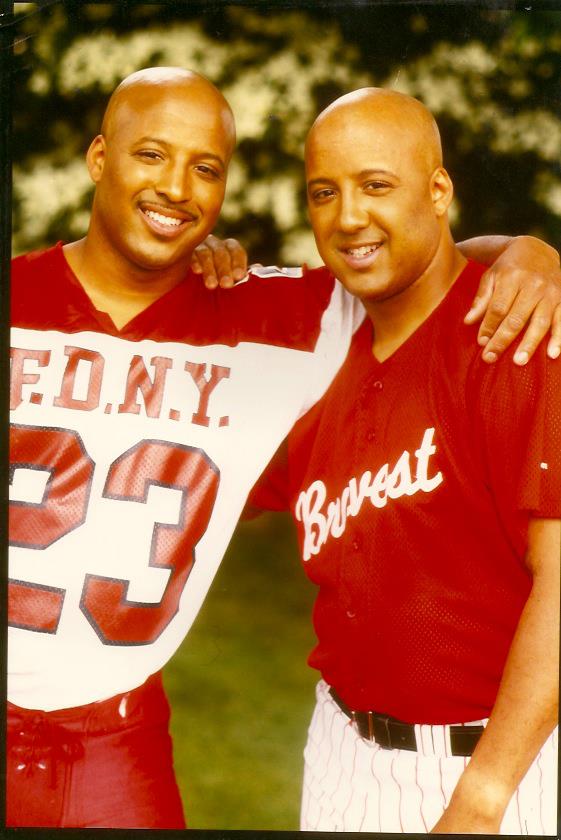 Photo 12: Zackary Fletcher (l) and his brother Andre Fletcher (r), circa June 2001.

---