This essay, published on Tuesday, September 9, 2008, is exclusive to Notablog.
[REMEMBERING THE WORLD TRADE CENTER: 2001; 2002; 2003; 2004; 2005; 2006; 2007, 2008, 2009, 2010, 2011, 2012, 2013, 2014, 2015, 2016; 2017; 2018; 2019; 2020; 2021]
EDDIE MECNER, FIREFIGHTER
By Chris Matthew Sciabarra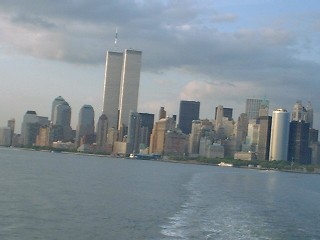 The Twin Towers, from the Staten Island Ferry, May 12, 2001
Photo by Chris Matthew Sciabarra
It was on a warm summer day in July 2001 that amateur photographer Laura Yanes passed Engine 14, a firehouse near Union Square in Manhattan. There she saw a firefighter named Eddie, and asked permission to take his photo. The firefighter agreed, on one condition: That she provide him with a copy of the photo. Because she volunteered in a high school darkroom, she told Eddie that she'd be happy to make a print for him when school reopened in September.
Yanes explains: "I was on my way to the school the morning of September 11, 2001 when the World Trade Center was attacked." She eventually developed her photograph of Eddie, and returned to Engine 14 to deliver it, but was unsure if he had even survived that horrific day.
Eddie Mecner, firefighter, was born in 1956 on the Lower East Side of Manhattan. His parents came to America from Poland, and he was the youngest of their three children, the first of his siblings to be born in this country. Having attended a parochial school in Manhattan, he later moved with his family to Park Slope, Brooklyn, where he graduated from Brooklyn Technical High School in 1974. He worked as a sanitation man for 9 years. And around 1979-80, he actually taught at Brooklyn Tech during the day, while working sanitation at night.
But Eddie wanted a real change in his life, a new challenge. So he took the test for the Fire Department of New York (FDNY) and became a firefighter in 1990, after three months of rigorous training.
For 11 years prior to 9/11, Eddie worked hard at his job.
Affiliated with Engine 5 in Manhattan, on East 14th Street and 1st Avenue, Eddie witnessed many tragedies, involving multiple fatalities, such as the August 28, 1991 subway train wreck that occurred just north of the Union Square station, in which 5 people were killed. He developed a very thick skin for handling such tragedy; any time he was called into action, the adrenaline would carry him. "You get caught up," he said. "You're there to help," and you gain an almost fearless resistance to thinking about your own safety. "You do what you were trained for and there's a certain mentality ... a sort of ... Marine mentality" that comes with the job. "You do it for the other guys you're working with; you don't want to let down your teammates. ... You do what you were trained to do, what you were supposed to do."
February 26, 1993
That training and sense of dedication was called upon in the recovery efforts after the February 26, 1993 World Trade Center bombing, in which over 1000 people were injured. Eddie was, in fact, one of the firefighters who discovered John DiGiovanni of Valley Stream, Long Island. DiGiovanni was still alive in the North Tower's obliterated parking garage; as Eddie helped carry him to street level, DiGiovanni expired, becoming one of 6 victims of that 1993 attack. (The granite memorial dedicated in 1995, in honor of the 1993 victims, was destroyed in the 2001 attack; ironically, a fragment from that older WTC memorial with the text "John" was recovered in the rubble from the 2001 attack, and will be used in the projected memorial honoring 9/11 victims.)
Eddie knew a bomb had gone off in the garage but "terrorism wasn't a big word at the time." It wasn't anything that anyone had expected in 1993.
Or 2001, for that matter.
Eight years later, on a placid late summer's day in September, terrorism would strike Eddie's hometown once again.
September 11, 2001
On the morning of September 11, 2001, Eddie was finishing up a 24-hour shift. He was dealing with another fire call---a typical false alarm at the Con Edison building on 14th Street and Irving Place---when, a little after 8:45 a.m., he was informed of a plane accident at the North Tower of the World Trade Center. "Most everybody thought it was a little plane. ... Nobody expected it to be a commercial jet."
The company drove west on 14th Street and as they approached Sixth Avenue, they looked south and could see the Trade Center in the distance. "And you knew it was more than a little plane. I remember commenting, 'I know we're going to lose guys today. ... We're definitely losing guys today'."
The truck made its way to the West Side Highway and sped to the scene in just a few minutes. The guys geared up according to the standard procedures for high-rise buildings, with each firefighter taking an extra cylinder, along with extrication tools and giant Halligan-type crow bars, which might help with forcible entry through stubborn sealed doors. Eddie began to ascend the North Tower, with his "brothers," each carrying all this extra weight and equipment on their persons.
At 9:03 a.m., as the firefighters ascended the North Tower, "we heard what sounded like a missile ... coming right at us. That must have been the other plane. And everybody hit the deck just like you see in war movies. ... Everybody just hit the ground. You didn't have to be told. It was then that the other plane must have struck [the South Tower] because we felt the rumble, the shake."
But the firefighters continued to climb up the stairs; one of them, Manny DelValle, got off on the 10th floor to assist a civilian. Eddie never saw his friend again. As the firefighters continued their ascent, people from the upper floors continued their descent out of harm's way. These people, those who worked daily in the Towers, greeted the firefighters with a "God Bless You," imploring each of them to be careful. "They were happy to see us," Eddie recollects. "I'm sure they felt a sense of relief to think that they were safer. But in reality ... they weren't any safer."
By the time the firefighters got to the 19th floor, some of them began to experience complications from the stress of the climb. They probably would have gotten as far as the mid-30s if they had not stopped several times, first on the 19th floor, and then on the 23rd, because one firefighter in particular felt chest pains that were becoming increasingly serious.
A little after 10 a.m., however, the firefighters felt an enormous rumble. One of them had access to a south-facing window; the South tower had just ... disappeared.
Within minutes of this catastrophic collapse, word was coming up the line for everybody to evacuate the North Tower. It was clear that the North Tower too was "structurally unsafe" for anybody to be in the building.
They couldn't easily get to the lobby, however; on the descent, the stairwell from which they had ascended was now blocked up to the 4th floor by debris from the South Tower, which had pushed up several floors into the North Tower. They were compelled to cross over to another stairwell. One among them was missing, at first, but he had come down safely through another stairwell. So they proceeded to the inside perimeter of the building, only to be halted at the exits. They couldn't leave the building because dangerous debris was falling and "people [were] jumping out" of the higher floors and hitting the ground.
When the clear signal finally came, Eddie and the other firefighters ran out of the building. Within 2 or 3 minutes of their dash from the lobby, Eddie felt the North Tower coming down behind him. He ran down West Street where his rig was, as a hellish cloud of fiery debris engulfed the war-torn streets of lower Manhattan.
The Recovery Effort
When the dust settled, Eddie and the surviving firefighters remained at Ground Zero, trying desperately to put out fires all over the WTC site. He worked with others to contain the fire that was consuming WTC building Number 7. "We were looking to put that [fire] out. ... They said 'that's coming down too,' so ... I think I'd about had it. I almost got killed twice already." 7 World Trade Center collapsed at 5:20 p.m.
Well into his 36th straight hour of service, Eddie Mecner left Ground Zero and went home.
He returned periodically to the site to assist with the recovery. In the days and weeks and months that followed, the firefighters typically did 12-hour shifts at "The Pit." Eddie assisted in recovery efforts for 2-3 months. Precious few bodies---or body parts---were recovered. "We didn't find anything. To tell you the truth, it was just like looking through dust. You're just looking through dirt and dust. You'd find, like, pieces of metal. You would think that you would find ... a door handle. Or something from a sink. Or a bathroom. Or some porcelain. Or metal. You didn't find anything. ... All you found ... dust, and dirt, and rebar and I-beams... There wasn't anything I could identify," because everything had been pulverized by the collapse.
Including human bodies.
Toxic contamination was always on the minds of workers, but, fortunately, Eddie didn't feel any immediate effects from his work at Ground Zero. He has stayed healthy.
Still, Eddie values his post-9/11 experiences, as firefighters from all over the country---from Chicago, from San Diego, from Boston, from small houses in Maryland, and so many other places---came to assist in the recovery. These firefighters stayed in New York firehouses, and worked and ate together, and strengthened the bonds of a "real brotherhood" among them. They are, says Eddie, "great Americans, just great people."
Eddie prides himself on his ability to maintain a straightforward and calm demeanor, but the loss of his buddies remains tough to bear. "There's just so, so many." Indeed, 343 firefighters were killed on that day. Among those with whom Eddie worked, "almost all of them were killed." The sister company of Engine 5, known as Ladder 3, lost 15 of its 25 members. Three of the guys who had been working with Eddie the night before, while he was on his 24-hour shift, were also killed: Lieutenant Paul T. Mitchell, John Burnside, and Steve Olson.
Looking back, he cherishes his memories of the many trips he took with his brothers, and the softball games they played together.
Eddie also lost his friend and Engine 5 brother, Manny DelValle. Manny's parents live up in Brookline, Massachusetts, and every September 11th, Eddie and a few of his pals go up to Brookline to spend the day with them, and to attend an annual memorial mass. Manny's parents continue to treat the guys to a lobster dinner at Engine 5 on the occasion of Manny's birthday. And they are regular participants in the "Tunnel to Towers Run" that takes place every year in late September.
Nowadays, when Eddie drives by the WTC site, "it's just flat. As a kid," he recalls, "I was a messenger [in Manhattan], so I remember when they were going up. ... I didn't like the buildings when they were going up, because I like the old-style buildings in New York. ... But you got used to it. And then one day, they were just gone."
* * *
The photograph that Laura Yanes promised to give Eddie was eventually placed in his hands. Laura had gone back to Engine 14, where she had photographed Eddie on that warm July day, two months prior to the 9/11 tragedy. The firefighters told her that Eddie had been working out of his company on that day, but that he had, indeed, survived. Eddie got his photo, but the other firefighters now wanted Laura to take their photographs as well. Laura obliged. Eddie's photo was the first of thousands she would take of other firefighters in New York City and throughout the country, the beginnings of a monumental project now known as the "National Firefighter Archive."
Eddie Mecner participated in a September 11th Oral History Project compiled by the FDNY; transcriptions of these recordings can be found at The New York Times site. His testimony, recorded on December 26, 2001, is available as a .pdf document.
Eddie Mecner, photographed by Laura Yanes*
_______________________________________________
* This is not the original 2001 photo; it was taken in 2008.
---