THE 2013 SECOND EDITION
Click here for all Second Edition Blog Posts
On the eve of its 20th anniversary, and after seven paperback printings of its first edition, published in 1995, Ayn Rand: The Russian Radical returns in 2013 with an expanded second edition (and ebook too!). The second edition incorporates a new Preface, two additional chapters delving into post-1995 documentation of Rand's education, and an appendix that replies to a recent critic of Sciabarra's historical thesis concerning the relationship of Rand to her philosophy professor N. O. Lossky. Some minimal revisions throughout the book have been made, but the most important is an expanded section of Chapter 12 ("The Predatory State"), entitled "The Welfare-Warfare State," which examines Rand's critique of the inextricable ties between government intervention at home and abroad. This is ultimately a challenge for the post-9/11 generation to fundamentally re-think the basis and history of catastrophic U.S. foreign policy. Rand's challenge is a radical and dialectical one, indeed, compelling us to examine every social problem historically and as interrelated within a system of statism that must be challenged at the root ("going to the root" is the very essence of what it means to be "radical").
This new edition of Russian Radical is situated explicitly within Sciabarra's "Dialectics and Liberty Trilogy," one that began with Marx, Hayek, and Utopia, continued with Russian Radical, and culminated with Total Freedom: Toward a Dialectical Libertarianism. He seeks nothing less than the full reclamation of dialectics ("the art of context-keeping") in the service of a radical libertarian politics. Sciabarra shows how Rand fits into this overall project, and how much can be learned about social change by studying her work, its evolution over time, and its potentially radical implications for the whole future of global politics.
Welcome to the Second Edition of Ayn Rand: The Russian Radical, a Fall 2013 release from Pennsylvania State University Press.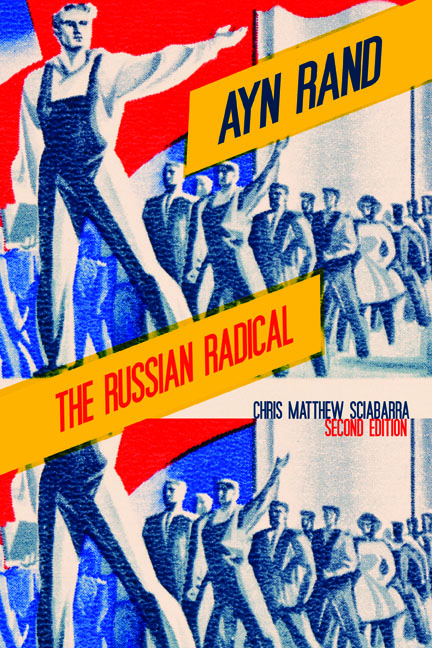 CLICK HERE TO ORDER BOOK OR KINDLE EDITION OR PDF (FIRST EDITION COPIES MIGHT BE STILL AVAILABLE HERE.)
CLICK HERE TO SEE AN EXCERPT FROM THE PREFACE TO THE SECOND EDITION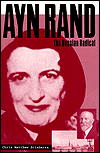 First Edition Cover
ENDORSEMENTS
REVIEWS (OF THE 1995 AND 2013 EDITIONS)

ABSTRACT (FROM

NON SERVIAM

)

TABLE OF CONTENTS (COMPARE THE FIRST AND SECOND EDITIONS)
PENN STATE PRESS (INCLUDES EXCERPT FROM SECOND EDITION PREFACE)
---