NOTABLOG MONTHLY ARCHIVES: 2002 - 2020
Read all about my "Election Prediction: Dracula Wins!" at Liberty and Power Group Blog!
Just a note to mark the passing, this past week, of the great baritone Opera singer, Robert Merrill, who, in addition to performing regularly at the Met, sang the National Anthem at Yankee Stadium for three decades. He died, apparently, while watching the first game of the World Series; life-long Yankee fan that he was, I sincerely doubt it had anything to do with the Red Sox being in the Fall Classic, as some have suggested.
He will be long remembered.
Happy Halloween from Blondie!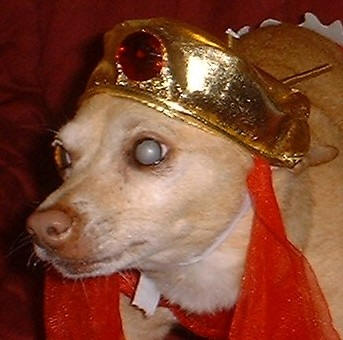 Check out Blondie's brand new "I Dream of Jeanie" Halloween Pictures here, here, and here, and her summer vacation photos here, here, here, here, and here. And for a trip down memory lane, check out Halloween 2000.
Song of the Day: Thriller, written by Rod Temperton, produced by Quincy Jones, sung and performed (in my favorite music video of all time, directed by John Landis) by Michael Jackson. With a featured rap by the incomparable Vincent Price, this one is perfect for Halloween.
Song of the Day: Rock Your Body, written by Justin Timberlake, Chad Hugo, and Pharrell Williams, and performed by Timberlake on his debut solo album, Justified. The kid's got rhythm and attitude and the song has a retro feel that demands the dance.
Song of the Day: Are You For Real?, a sleaze-beat funk track, written by Rick Suchow, recorded by Deodato (featuring the vocalist Camille Filfiley) and also by TKA. "Who are you and where did you come from? Maybe you're an angel in disguise?" Check out Rick Suchow's website too, and scroll down on Rick's music page to listen to great audio clips of various versions of this fab song. See here too.
As announced at SOLO HQ, L&P, the Ayn Rand Meta-Blog and a host of other lists, Volume 6, Number 1 of The Journal of Ayn Rand Studies has just been published. This issue is the first of two symposia celebrating the Ayn Rand Centenary (which is marked, officially, on 2 February 2005). It is entitled "Ayn Rand: Literary and Cultural Impact," and it features articles from such contributors as Erika Holzer, Stephen Cox, Jeff Riggenbach, Matthew Stoloff, Kirsti Minsaas, Cathy Young, Bernice Rosenthal, Alexandra York, and yours truly.
My own introductory essay to the current issue is entitled "The Illustrated Rand." It is a much expanded discussion of an earlier Atlasphere essay entitled "The Cultural Ascendancy of Ayn Rand."
Keep your eyes open for JARS's second Rand Centenary issue, which will be published in early 2005. It is entitled "Ayn Rand Among the Austrians," and will include contributions from Walter Block, Peter J. Boettke, Steven Horwitz, Roderick T. Long, George Reisman, Larry J. Sechrest, Leland Yeager, Ed Younkins, and others.
For information on JARS subscriptions, click here.
Congratulations to the Boston Red Sox for their 4-game sweep of the St. Louis Cardinals in the 100th World Series! The Sox were a wild card team; they beat the 101-game winning Yanks and the 105-game winning Cards. What's the significance of this underdog victory? Check out my L&P essay, "All Bets Are Off!" ... and find out.
Song of the Day: Mama Used To Say, written by Junior Giscombe (an R&B Londoner who also sings the song) and Bob Carter. Check out the bass-happy clip on Billboard Hot R&B Hits 1982.
At L&P, I post a Happy Birthday message in honor of "The NYC Subway Centennial."
Song of the Day: Take the A Train, music by Duke Ellington, lyrics by Billy Strayhorn, has been performed as a big band staple by Ellington's band, and as a vocal tour de force by Ella Fitzgerald. What else on the 100th anniversary of the New York City subway?
Song of the Day: Don't Misunderstand, a Gordon Parks composition, sung by the ever-soulful O. C. Smith, for the soundtrack of Shaft's Big Score.
Some discussion of my post on "Ayn Rand and Unintended Consequences" is featured at L&P.
Song of the Day: So Danco Samba (I Only Dance Samba), an Antonio Carlos Jobim-Vinicius De Moraes composition, as sung by Joao Gilberto and played by the remarkable tenor saxophonist Stan Getz. This is lyrical, melodic, swinging bossa nova at its best. Another magnificent track from Getz/Gilberto
Song of the Day: Tell Me I'm Not Dreamin' (Too Good To Be True), written by Michael Omartian, Bruce Sudano, and Jay Gruska, is a pop nugget with a churning bass groove. Recorded as a fine duet with Michael Jackson and his brother Jermaine Jackson, and also by the late Robert Palmer.
In the light of recent discussion about the foreign policy positions of many Objectivists, I examine the topic of "Ayn Rand and Unintended Consequences" at L&P.
Song of the Day: For Once in My Life, lyrics by Ron Miller, music by Orlando Murden, has been recorded in many different versions, including one in 1968 by the rollicking Steve Wonder, and a definitive 1967 vocal turn by Tony Bennett.
I have some follow-up thoughts about the Yankees-Red Sox rivalry in today's L&P post: "The Fall Classic." Check out the comments too.
Song of the Day: I Want It That Way, by Swedish composers Max Martin and Andreas Carlsson, was sung by the harmonizing Backstreet Boys. It's just a wonderfully hummable pop record.
... it doesn't feel all that good. And what a loss it was for Yankee fans. But who am I to talk about losses? Not in the face of a history of enormous losses by the Boston Red Sox, who have spent nearly a century under the delusion that they are victims of the Curse of the Bambino, an alleged curse that emerged after they dealt Babe Ruth to the New York Yankees; for this, they have not won a World Series since 1918 ... and whatever their victories over the guys in pinstripes, it is only a World Series win that will vanquish that curse forever in the hearts of the Beantown faithful.
Yes, the Sox staged the most incredible comeback in postseason history. Down 3 games to none, they fought back and won four straight games to take the American League Championship Series. Good luck to the Sox as they face the best of the National League, which will be decided tonight in a seventh game "do or die" playoff between the Houston Astros and the St. Louis Cardinals.
As for the Yankees, what can I say? I'm a life-long fan. And contrary to what a lot of people keep telling me, and what Joe E. Louis said a long time ago, it is not true that "rooting for the Yankees is like rooting for U.S. Steel."
I wasn't around when the Yanks were stringing together all those great teams of the 1920s, 30s, 40s, and 50s. I was born of a generation that was too young to remember the glory days of the early 1960s, the days of Mickey Mantle and Roger Maris. I first started rooting for the Yankees in the late 1960s, when they were underdogs in the city of New York. In fact, the first game I ever saw was in the old Yankee Stadium, a Mayor's Trophy Game against the far-more beloved New York Mets, who were recent World Series Champs. New York had always been a predominantly National League town, with a classic rivalry between the New York Giants and the Brooklyn Dodgers. Most of those NL fans despised the Yankees, and when the Giants and Dodgers skipped town, and the Mets were founded, these fans naturally gravitated to the new NL organization. So when the Miracle Mets won a World Series in 1969, and the Yankees were losing year after year, not going anywhere near a World Series from 1965 through 1975, it was tough being a fan for the "other team" in New York City. It was hard even in the 1980s to locate the Yankees on the backpage of the New York Daily News, as the Mets continued to reach the postseason, even playing a part in that Bambino Curse by beating the Boston Red Sox in 1986.
But there was a wonderful period for Yankee fans in the late 70s. In 1976, the Yanks had finally won another American League Pennant ... only to lose four straight to the Cincinatti Reds in the World Series. Fans like me had at least tasted what it might be like to see a Yankees team on the world stage. As relatively new owner George Steinbrenner took advantage of the new "free agent" market, bringing people like Catfish Hunter and Reggie Jackson to the Yanks, the misfortunes of a decade were suddenly being turned around. The stadium had been remodeled, and so had the team. In 1977, the Yanks finally were back on top. And I was in all my glory! And the current Boston Red Sox may have had the greatest comeback of any team in postseason history, but I can think of no regular season comebacks in my lifetime that was more exhilarating than the one staged by the 1978 Yankees, who were 14 games behind the Bosox in July, and who came roaring back, with Ron Guidry leading the charge, to a one-game playoff in Fenway Park. The Bucky Dent (or as he's known in Boston, "Bucky F. Dent") game. Those Yanks went on to win for the second consecutive year over the Los Angeles Dodgers in the World Series.
But after 1978, the Yanks slipped back into their losing ways. They were contenders for the playoffs a couple of times, and even got back to the World Series in 1981, only to lose to those same Dodgers in 6 games. The closest they came to the Big Stage was 1995, when a team led by Don Mattingly came up short in the first round of the playoffs.
And then came 1996, when the Yanks scored an improbable victory over the heavily favored champion Atlanta Braves in the World Series. After 18 years of George Steinbrenner trying to create a team of all-stars, the Yanks finally were drawing from home-grown talent like Derek Jeter, Bernie Williams, Andy Pettitte, Mariano Rivera, and others. This was a team, not simply the latest greatest players with the best stats thrown together with little or no attention to chemistry. And it was this team that went on to World Championships in 1998, 1999, and 2000, as well. Steinbrenner has made the Yanks contenders every year since then. But after their heartbreaking loss in 2001 to the Arizona Diamondbacks in 7 games, this has not been the same team. They may be the best team money can buy, but they're still not an integrated team. Perhaps George should think about the elements that brought four world championships to his Yankees in the five years between 1996 and 2000. Perhaps this is "Monday-morning quarterbacking," to use a football metaphor ... but true Yankee fans have known about the weaknesses in these Yankees for a long while. Can't keep plugging holes and selling the farm system, can't keep pushing new players in, and old players out, and still expect to field a team. They may win 100+ games in the season, and they may still be the most famous sports franchise in the world. But they're not going to go all the way like this. When Captain Derek Jeter was asked why this team hasn't won, he put his finger on the central issue: It's just not the same team.
So, Yankee fans, we'll have to wait till next year. Or the year after. Or the year after that.
But I want to say something to those people who have said to me: "Oh, come on, you guys win every year! Let some other teams win! You've got 26 World Championships, 39 American League Pennants!" Many of these Yankee haters, who enjoy talkin' smack, who bemoan Yankee "wealth" and who often suffer from Pinstripe Envy, just don't get it. Clearly, spending the most money does not guarantee victory; last year's lowly Florida Marlins did, in fact, beat the Yankees in the World Series. And it is true that Yankee misfortunes don't match those of the Cubs, White Sox, or Red Sox.
But when you're a fan, you're a fan. And if you're not a fair-weather fan, if you're the kind of fan who watches your team day after day, for years and years, the kind of fan who knows that your team hasn't won every year, the kind of fan who has experienced far more loss than victory, it doesn't matter if your team has 26 or 56 World Championships. All that matters is that your team strives for excellence. And often achieves it. And, in the end, it is the excellence of the New York Yankees, their history, that brings such a fan back to root, root, root for the hometeam.
So, the Yankees are down and out after the biggest postseason choke in baseball history. But they'll be back. They're not just history. For me, they are baseball. And any genuine fan of any team would feel the same way about their own team.
Good luck to the 2004 World Series contenders.
(Also see L&P ... )
Song of the Day #53: Night and Day, words and music by Cole Porter, has been recorded in many vocal versions, and in many fine instrumental versions as well, including one by the incomparable jazz guitarist Joe Pass, featured on his album "For Django," a groundbreaking tribute to the magnificent gypsy jazz guitarist, Django Reinhardt.
The New York Yankees and the Boston Red Sox are tied at three games each in the American League Championship Series. The winner meets the National League champ in the World Series.
Boston pitcher Curt Schilling was the big winner last night. Take a look at Aeon Skoble's thoughts on this: Who's Your Daddy? Uh, I mean: "Who's Your Heavenly Father?" And I have two comments on Schilling's Bleeding Red Sox.
Update: And don't forget, it is Mickey Mantle's Birthday. GO YANKS!
Song of the Day: I Wanna Be Around, words and music by Sadie Vimmerstedt and Johnny Mercer, was delivered with a sense of poetic justice by Tony Bennett. Seeing a Godfather-spoofing Marlon Brando dance to this in "The Freshman" was a hoot.
Song of the Day: Ain't Nothing Gonna Keep Me From You, music and lyrics by Barry Gibb, was sung by Teri De Sario in a grand 1978 Casablanca Records release. A fantastic pop hook for the dancefloor.
In his L&P post, "Empire and Imperialism," William Marina comments on my L&P post from yesterday. I return the favor, commenting, along with David Beito, on the need for an awareness of system in libertarian foreign policy analysis.
I also add my voice to a discussion that features Aeon Skoble and Charles Johnson, reflecting on Steven Horwitz's L&P post, "Faith-based Presidents and Reality-based Communities." In discussing Ron Suskind's NY Times essay on the political implications of Bush's religious convictions, I remind readers of my own essay on this theme: "Caught Up in the Rapture."
Update: "Caught Up in the Rapture" (originally published in The Free Radical) continues to make the rounds; The Revealer recommends it to readers: "Ayn Rand v. W." I also have additional thoughts at L&P on the libertarian applications of "Systems Theory."
Song of the Day: I Love You Too Much, words and music by Stevie Wonder, is not among his most well-known compositions, but it is certainly among his classic performances. Danceable and full of heart, soul, and sheer oomph, the song includes Stevie's signature rhythmic ad-libs: "I love you too much... maybe three much." I think of my friend Elaine when I hear this song, and it's her birthday, and I love her three much. Happy Birthday!
A new essay of mine appears at L&P, dealing with the indissoluble link between warfare and the regulatory-welfare state: "Welfare and Warfare, Foreign and Domestic."
Song of the Day: This Time Baby, written by C. James and L. Bell, was originally an O-Jay's B-side. It was re-recorded by powerhouse R&B singer Jackie Moore and became one of the great dance classics of the '70s. Excerpts are available on amazon.com.
An L&P comment on the Roasting of Donald Trump.
I have most likely made my final comments on foreign policy in the current SOLO HQ discussion thread concerning Barbara Branden's article. See here and here, and follow-up discussions here, here, here, and here.
Song of the Day: Let's Start II Dance Again, a dance extravaganza by funk master Hamilton Bohannon, features a terrific party rap over a pounding disco beat. "Everybody get on up and dance!"
... that's what today's comment on Barbara Branden's SOLO HQ essay, "Why Many Libertarians Are Voting Against America," constitutes. Read my commentary here and, if you have time, follow all the links to only a fraction of the essays I've written on foreign policy and American electoral politics.
I added another comment to the Cordero thread, focusing on the infancy of Rand studies.
Song of the Day: Wave, an Antonio Carlos Jobim gem, is delivered in an irresistible manner by Sergio Mendes and Brasil 66. At their height, Brasil 66 had one of the most melodic Brazilian sounds in music.
Stay away from SOLO HQ for a few days, and you're always in for some kind of surprise when you return to check it out. George W. Cordero wrote an essay entitled: "Why I Hate Chris Sciabarra & Barbara Branden." Call it masochism, but I just had to read the essay, and leave a comment for Doubting Thomas (my pet name for Mr. Cordero).
Meanwhile, I send happy and healthy birthday wishes to my pal, Chip!
Song of the Day: Good Love, by Gary Taylor, is delivered soulfully by Anita Baker in a "sleaze-beat" rhythm (the so-called "morning music" of the DJ: a slow and sexy dance rhythm hovering around 100 beats-per-minute). Delicious. Listen to an excerpt at amazon.com (though they leave out the best parts).
Yesterday was the sixth anniversary of the murder of Matthew Shepard, and Arthur Silber noted it here. Arthur links to an essay of mine from four years ago: "The Laramie Project."
Song of the Day: When Sunny Gets Blue has poetic words and melodic music by Jack Segal and Marvin Fisher, and has been sung by Johnny Mathis among others.
Song of the Day: Misty, music by Erroll Garner, lyrics by Johnny Burke, has been recorded by such artists as Sarah Vaughan and Johnny Mathis. It was also featured in a Fatal Attraction-like Clint Eastwood film, Play Misty For Me.
In a few weeks, the new Journal of Ayn Rand Studies will be published. It will be the first of two special issues devoted to the Ayn Rand Centenary (officially celebrated on February 2, 2005). This first issue is entitled "Ayn Rand: Literary and Cultural Impact." The second Centenary issue will be published in Spring 2005; it is entitled "Ayn Rand Among the Austrians." Fully detailed announcements, with information on contributors and tables of contents, will be published soon.
Meanwhile, a very happy and healthy birthday to one of my esteemed colleagues, a member of the JARS Board of Advisors from the beginning, and a great pal: Larry Sechrest.
Song of the Day (b): Somewhere in Time, a poignant John Barry-penned theme (with lyrics), from the film of the same name. I add this extra song in memory of "Superman" Christopher Reeve, who starred in the film with Jane Seymour, and who passed away yesterday at the age of 52.
In response to an L&P post by William Marina addressed to me, "Updating the Marine's Empire Handbook," and to points made by Matt Barganier here and here, I make a brief comment about "Coalition-Building" in opposition to the current administration's foreign policy adventures.
In a comment added at the Rozsa forum, I address the issue of bias in my review of Cesari's biography of Mario Lanza, a response to points raised by writer A. Lee Hern.
Song of the Day (a): Sing, Sing, Sing (With a Swing), perhaps the quintessential Swing-era anthem, has been choreographed on the Broadway stage in wildly different, though equally effective, sensually exquisite, nay, sexy versions, in such musicals as "Contact," "Fosse" and "Swing." And I once heard Maureen McGovern sing it. But there is simply no substitute for the original Benny Goodman 8+ minute instrumental recording of this classic, which featured terrific solos by tenor saxophonist Vido Musso, blazing hot trumpeter Harry James, and the ever-melodic Goodman on clarinet (at the trailblazing 1938 Carnegie Hall concert, pianist Jess Stacy also soloed). Penned by the immortal Louis Prima, and combined, in the Goodman version, with the equally immortal Fletcher Henderson's "Christopher Columbus" (hence my highlighting of it today), this track was powered by the propulsive pulsing drums of Gene Krupa.
My, my... I know that sometimes my work can provoke heated responses, but on Mario Lanza and Miklos Rozsa? Well... I guess so. Check out the continuing dialogue here.
At both the Mises Economics Blog and L&P, I post a brief entry highlighting an important article in today's NY Times that deals with the almost-forgotten anti-interventionist tradition of the Old Right on issues of foreign policy. This is a tradition that includes individuals as diverse as Albert Jay Nock, Ayn Rand, and Murray Rothbard.
Song of the Day: Moon River, a poignant Henry Mancini Oscar-winning composition (with lyrics by Johnny Mercer), from the 1961 film "Breakfast at Tiffany's," starring Audrey Hepburn. One of my long-time favorites and a favorite of another special aunt of mine who passed away some years ago (and whose 95th birthday it would have been today). Listen to an audio clip featuring Stevie Wonder on harmonica.
The Yankees beat the Minnesota Twins, and advance to the American League Championship Series to face their long-time rivals, the Boston Red Sox. See my post at L&P: Here We Go Again....
At the Rozsa Forum, I added a note on Miklos Rozsa and Mario Lanza.
As a postscript to my recent discussions on fascism, I briefly note the contributions of Robert Higgs in an L&P post: "Higgs and 'Participatory Fascism'."
Song of the Day: E Lucevan le Stelle, an aria from Tosca (see synopsis) by the Italian opera composer Giacomo Puccini, especially as sung by Mario Lanza.
In response to my L&P essay on "Freedom and 'Islamofascism'," there have been very interesting comments posted here, here, and here.
I simply could not do justice to the issues raised without addressing them much more comprehensively. So, today, I've posted an L&P essay entitled: "Fascism: Clarifying a Political Concept."
Finally, in another L&P essay that deals tangentially with "Islamofascism," I discuss the most recent CIA report on WMDs as well as the positions, both shifting and tenacious, on the war in Iraq: "Changes in the Intellectual Air."
In keeping with our Lanza theme from yesterday ...
Song of the Day: Vesti la Giubba, the great Pagliacci aria by composer and librettist Ruggero Leoncavallo, has been recorded in a devastating version by Mario Lanza.
Whether the Yankees ultimately win or lose this division series with the Minnesota Twins, last night's game, for Yankee fans especially, was the quintessential example of October baseball. A thrilling, dramatic extra-inning game in Da Bronx, as Derek Jeter, Alex Rodriguez, Hideki Matsui, and the Yanks won, 7-6. The series is now even, and the action now shifts to Minnesota.
A discussion has begun on my "Islamofascism" post at L&P. Jonathan Dresner raises a very important point about the issue of specifically Arab civic culture. The exchange begins here.
In addition to my pick for song of the day, and its accompanying essay, SOLO HQ has published today an essay of mine that appears in the current issue of The Free Radical. That essay, "Like a Man Possessed," is a review of an extraordinary book by Armando Cesari: Mario Lanza: An American Tragedy. (A PDF version is available here.) It dramatizes the effects on one man's life of the lethal dichotomy between "serious" art and "popular" entertainment. Take a look at the follow-up comments as well. (My essay is also noted at L&P here, with regard to the effects of government actions on Lanza's life.)
This material is all published on the 45th anniversary of Lanza's death, which is marked by James Kilbourne at SOLO HQ, and in follow-up discussion here. See also this item on the Mario Lanza mural in Philadelphia.
Update #1 (October 7th): A couple of more thoughts on my broad musical tastes here, here, here, and here.
Update #2 (October 8th): A few more follow-ups... see Peter Cresswell's essay and discussions here, here, here, here and here
Song of the Day: I'll Walk With God, a composition that features the words of Paul Francis Webster and the music of Nicholas Brodszky, has been sung gloriously by Mario Lanza. In honor of the 45th anniversary of his passing, I include this song in remembrance. (See follow-up discussion here.)
I have a real problem with the ways in which some writers use the word "Islamofascism." That, and the issue of democracy in Iraq, is the subject of a post at Liberty and Power: "Freedom & 'Islamofascism'."
I also have one follow-up comment to Aeon Skoble's Dangerfield L&P obituary, "Looks good on you, though."
There's a huge discussion going on at SOLO HQ surrounding this question: "What, in your estimation, represents the single greatest achievement in Western art?" I haven't wanted to touch that discussion with a 30-foot pole, but finally decided to weigh-in here. Tomorrow, an essay of mine on the singer Mario Lanza will appear on SOLO HQ. I suspect it will spark some discussion there as well.
Update: And check follow-up comments here and here.
Rodney Dangerfield, he of the classic one-liners, has passed away.
I met Dangerfield many years ago when my sister-in-law, Joanne Barry, headlined at his famous nightclub in Manhattan. She appeared there many times, but the one time all of us remember was the first. Dressed in an elegant gown, she ran into Dangerfield on the stairs to her dressing room, and he said to her: "Where did you work tonight?" "Here, in your club," she answered. It became a running joke between them everytime she went back to the club to perform.
He'll be missed.
Song of the Day: Watch What Happens, music by Michel Legrand, English lyrics by Norman Gimbel, French lyrics by Jacques Demy, has been sung by many, including a fine version by Nancy Wilson. Like "I Will Wait for You," it is from the film soundtrack of "The Umbrellas of Cherbourg." A favorite of a late aunt of mine (who must have collected three dozen versions of the song), and one of my own long-time favorites.
My posts from yesterday have elicited quite a few interesting discussions.
The question I posed at the Rozsa forum has generated some good answers.
My "Neocon Newbie" post at L&P has several threads. First, there's my discussion with Jonathan Dresner and Pat Lynch on the "three-state solution." I actually reproduce a much larger essay of mine on this subject from November 2003. Second, there's my exchange with John Arthur Shaffer on the implications for social policy that the current election might have. Third, there's my discussions with Aeon Skoble, here and here touching upon my favorite songs and what I'll be watching tonight. (Hint: Baseball trumps politics...)
Finally, the Sciabarra pronunciation thread continues, with a profound personal confession about my ... twin toes. And see other discussions here and here.
(Yes, #36: I neglected to take into account the two songs I picked on 9/11/04; so the titles have been corrected, and even the daily listing here has been corrected to reflect the change.)
Song of the Day: Here Come the Yankees is music to my ears, given that today is the opening of baseball's 2004 post-season. The New York Yankees face-off against the Minnesota Twins in the American League Division Series. GO YANKS!
I've been busy working on an article about the great 20th century composer, Miklos Rozsa, and posed a question about a curious statement that Rozsa made in his autobiography, Double Life. Take a look at the Miklos Rozsa Society forum for the question and the follow-up.
I also had the occasion to stop in at SOLO HQ, where I address, once again, the even more important question: "How is 'Sciabarra' pronounced?"
In addition to some brief observations about the New York Yankees' post-season, I have some observations on another game: the game of politics. Check out my Liberty & Power (L&P) post on Kerry's growing affection for neoconservative foreign policy prescriptions: "Neocon Newbie."
Song of the Day: I Will Wait for You, music by Michel Legrand, English lyrics by Norman Gimbel, French lyrics by Jacques Demy, was an Oscar-nominated song that lost out to the brilliant theme from "The Sandpiper." But it derived from the 1964 masterpiece, "The
Umbrellas of Cherbourg" (Les Parapluies de Cherbourg). A special 2-CD version of the soundtrack includes two superb jazz instrumental versions arranged by Legrand.
Song of the Day: The Girl from Ipanema, music by the only Antonio Carlos Jobim, boasts Portuguese lyrics by Vinicius de Moraes and English lyrics by Norman Gimbel. Featuring the lilting lyricism of tenor saxophonist Stan Getz, vocalist and guitarist Joao Gilberto, and vocalist Astrud Gilberto, this song from the Grammy-winning Getz/Gilberto album, one of my all-time favorites, put bossa nova into American pop cultural hyper-drive. Timeless.
Because I was in transit yesterday, I was unable to make this official announcement: NYU has provided me with a real blog interface. So it does appear as if "Not a Blog" is becoming more blog-like. Alas, I'm still going to use this, sans comments, as a place to link to my posts and essays as they are published all over the Internet and the blogosphere. In the meanwhile, if you want to remember this address, it's the old one without the .htm. Or better still, just remember Notablog.net, and you'll be instantly forwarded to this new address!
I have a lot more to post in the coming days, but for now, here's the ...
Song of the Day (#33): By Design, a composition by Larry Prentiss, Vince DiCola, Jodie Victor, and Steve Lane, is a wonderful duet that pairs jazz singer Diane Schuur and Latin singer Jose Feliciano, proving that seeing is a state of mind.
Congratulations to the New York Yankees, who won their 100th game of the season last night, along with the Eastern Division of the American League. The game was won on Bernie Williams' walk-off 2-run homer, the 241st home-run of the season for the team, setting a new team record for the Bronx Bombers (beating the old one set by the great 1961 team). The Yanks also set a single-season attendance record: 3,775,292 (and an all-time road attendance record). Three more games to the regular season; the postseason begins next week. GO YANKS! (Yes, Aeon Skoble posted on this too... at L&P.)
I have a number of posts and essays that will be posted in the coming days, with reflections on everything from the Presidential debates to the legacy of singer Mario Lanza; but October is here, and so is the ...
Song of the Day (#32): When October Goes is a unique song in many ways for its "evocation of life's twilight years." Barry Manilow actually wrote the music to poetry left behind by Johnny Mercer. It has been recorded by Rosemary Clooney and Nancy Wilson. But Manilow himself offers a most tender version, featured on his fine jazz-inspired album, 2:00 AM Paradise Cafe.