Song of the Day: Hitch it to the Horse, words and music by Jesse James, was a 1968 pop and R&B hit for Fantastic Johnny C. (Johnny Corley). Drawing on the James-penned hit, "The Horse," which we featured on Triple Crown Day, this song implores us to do "the funky walk." Check out the original single and a 2003 cover by Latin jazz artist Poncho Sanchez, which features a nice sax solo to accompany its soulful funky beat [YouTube links].
Song of the Day: Shake Your Groove Thing, words and music by Dino Fekaris and Freddie Perren, was a 1978-79 Peaches and Herb hit that made the Top 5 on the Billboard Hot 100 and R&B charts, peaking at #2 on the Billboard Disco chart. This song has made its impact on popular culture, featured in various film and television shows throughout the years. Check out the single version, the album version, and the original 12" remix [YouTube links]. We're beginning an extended "Song of the Day" run that will take us right through July 4th. So no excuses: Shake your groove thing!
Song of the Day: It's Your Thing, words and music by Ronald Isley, O'Kelley Isley, Jr., and Rudolph Isley, otherwise known as the Isley Brothers, was released in February 1969. This song, from the album, "It's Our Thing," would reach #2 on the Billboard Hot 100 and #1 on the R&B charts, and would go on to win a Grammy Award for Best R&B Performance by a Duo or Group. It was one of the singles featured on the jukebox at the Stonewall Inn, which was raided by police in the early morning hours of June 28th of that year, in what proved to be the final act of state violence against this private establishment catering to a largely gay and lesbian clientele. With lyrics such as "It's your thing, do what you wanna do! I can't tell you who to sock it to! I'm not trying to run your life, I know you wanna do what's right. Give your love now, to whoever you choose. How can you lose!"---it became a perfect funk anthem to celebrate the birth of the modern gay liberation movement as the Stonewall Inn patrons fought back in defense of their rights to live their own lives in liberty and to pursue their own happiness, without social or political oppression or the need for the Mafia-owned bar to continue making police pay-offs---a libertarian moment if ever there were one!
Song of the Day: Bloom features the words and music of Brett McLaughlin, Oscar Holter, Peter Svensson, and Troye Sivan Millet, a 23-year old South African-born Australian who used social media to "come out" [YouTube link] and to gain an impressive pop following with his music. But even Ian McKellen was impressed as was Larry King [YouTube links to Larry King interviews]. He recorded this title song for his forthcoming second album. He provides us with an exercise in human authenticity in a revealing interview for Billboard's 2018 Pride Issue. Tomorrow, we'll have more to say about the 'prideful' meaning of these dates in late June. For now, check out the song's original video single, Cliak Remix, Mysterio Remix, and Craig Welsh Remix.
Song of the Day: Scream features the words and music of Jimmy Jam and Terry Lewis and siblings Janet Jackson and Michael Jackson, whose recording of this duet was released in May 1995. The critically acclaimed video would go on to win three MTV Video Music Awards (for "Best Dance Video," "Best Choreography," and "Best Art Direction"), as well as a Grammy Award for Best Music Video. Check out the original video single, the Flyte Tyme Remix and the Naughty Remix (featuring a rap by Treach of Naughty by Nature) [YouTube links]. On this day, nine years ago, MJ was "gone too soon." This song gave his sister a chance to provide a touching tribute to her brother at the 2009 MTV Video Music Awards [YouTube link], as Janet matched the choreographic moves of MJ live on stage, with the video to this #1 Dance Club Song as her background. And for an extra treat, check out a classic Disconet medley of some of MJ's hits put to a fine video edit [YouTube]---giving us a glimpse of why he was one of the finest "song and dance men" of his generation.
Song of the Day: Man in the Mirror, featuring the words and music of Siedah Garrett and Glen Ballard, was the fourth of five consecutive #1 singles released from Michael Jackson's "Bad," the 1987 solo album that followed the massive success of "Thriller," still the biggest-selling album in music history. This song features not only Jackson's classic vocals [a cappella link], but the background vocals of Garrett (who sang a duet with Jackson on the album's first #1 hit, "I Just Can't Stop Loving You"), The Winan's, and the Andrae Crouch Choir. Check out the single version, the extended version, the official video version, and the inevitable dance remix. Also check out his performance of the song at the 1988 Grammy Awards (which followed a jazzy live performance of the third #1 single from the same album, "The Way You Make Me Feel") [YouTube links]. This begins a two-day tribute to MJ in remembrance of his untimely passing on June 25, 2009.
Song of the Day: Unbreak My Heart, words and music by Diane Warren, was one of the most successful singles in the history of the Billboard charts. Produced by David Foster and recorded by Toni Braxton for her album "Secrets," she went on to win the Grammy for Best Female Pop Vocal Performance. As a power ballad, the song spent 11 weeks at #1 on the Billboard Hot 100, 14 weeks at #1 on the Adult Contemporary Chart, but in several dance remixes, it attained the #1 spot on the Dance Club Chart for four weeks. Check out the video ballad version, and then, get back on that dance floor with the Frankie Knuckles Radio edit, the full Frankie Knuckles 12" Remix, the Soul-Hex Vocal Anthem mix, and a live performance at the 1996 Billboard Music Awards that combined the ballad and dance sounds of an unforgettable hit.
From Billboard magazine comes some interesting news for long-time Louis Prima fans. Because of the contemporary penchant for sampling, it appears that Louis Prima, legendary jazz trumpeter, singer, composer, and bandleader, who died in August 1978, and whose last appearance on the Hot 100 was on February 13, 1961, for the #15 song "Wonderland by Night" [YouTube link] has just set a record. The new hip hop group, Kids See Ghosts, made up of Kanye West and Kid Cudi, has heavily sampled from Prima's 1936 recording of "What Will Santa Claus Say (When He Finds Everybody Swingin')" [YouTube link], for their own song "4th Dimension" [YouTube link].
That song debuts at #42 on the Hot 100 this week, which "ends a record break of 57 years, four months and two weeks between Hot 100 appearances" for Prima.
For somebody who once sang "I Ain't Got Nobody" [YouTube link] as part of a medley with "Just a Gigolo", one thing is clear: He's got a record he may hold on to for a very long time!
Song of the Day: Turn the Beat Around, words and music by Gerald Jackson and Peter Jackson, was recorded by Vicki Sue Robinson for her 1976 debut album "Never Gonna Let You Go." A bona fide Disco Classic with a raw percussive edge, this single went to #10 on the Billboard Hot 100 and spent four weeks at #1 on the Dance Club Chart. Check out the original extended mix [YouTube link]. The song was subsequently covered by Laura Branigan and Gloria Estefan [YouTube links], whose version also went to #1 on the Dance Club Chart in 1994.
Song of the Day: The Twist features the words and music of Hank Ballard and it was Hank Ballard and the Midnighters [YouTube link] who first recorded this song as a B-sided single in 1959. That original version peaked at #28 on the Billboard Hot 100 in 1960. Later that year, along came a gentleman named Chubby Checker, whose cover version hit the top of the Hot 100 in September 1960 and again in January 1962, leading Billboard to declare it the "biggest hit" of the 1960s. "The Twist" was also the name of the dance that sparked a wordwide dance craze. Even at 2 years old, I was twisting and turning to the sounds of this mega-hit. In 2018, it was among six songs named to the Rock and Roll Hall of Fame's inaugural class of singles recognized as having influenced the course of rock. With the summer solstice having arrived today in the Northern Hemisphere at 6:07 a.m. ET, this song kicks off our Third Annual Summer Dance Party, which unlike previous celebrations, will be highlighting dance hits from the 1950s through today, with special emphasis on the hits of yesteryear. Check out the original Chubby Checker #1 hit [YouTube link].
On March 16, 1987, our family suffered some real heartache when our cat, Buttons, passed away at the age of 18 years. We swore we'd never get another pet.
By 1990, that sworn promise was broken when our dog Blondie entered our lives. She would live to the age of 16, dying on January 12, 2006. And we swore we'd never get another pet.
Until Dante entered our lives not too long thereafter. But on November 11, 2017, our family suffered more heartache when Dante died, at 17 1/2 years of age. And we swore we'd never get another pet.
The amazing thing about each of our pets is that every one of them had their own personality, their own quirks, which made each of them truly unique, and none of them a mere "replacement" for the last one lost. Pets have always had a way of finding us, rather than the other way around.
The human heart is immense, and "Pet People"---folks who form very real connections to their pets, and who benefit from the companionship and the "visibility" (a la "The Muttnik Principle") that a pet provides---have an almost limitless capacity to fall in love again, even after the devastating loss of a cherished member of the family.
Apparently, about 9 days after we had brought Dante's body to our neighborhood clinic (The Jacobson Veterinary Clinic) for cremation, our vet, Dr. Linda Jacobson, welcomed into that clinic a cat named Cali (short for Calico). She was 5 months old, having been born on June 21, 2017. She immediately got all her shots, and a microchip, and in January 2018, she got her hysterectomy.
So, on May 17, 2018, we spoke to the folks at the vet's office, who wanted us to meet Cali. Dr. J encouraged us to give Cali a "trial run" on the weekend of May 18th. Somewhat worried about "falling in love" again, we took the challenge. Poor Cali was petrified entering this apartment, especially when I let her out of her carrying case. Within a short while, with an odd "Twilight Zone" twist of irony, Cali discovered the only place where she could find comfort. It was under a small table in the corner of our front room---in the very space where Dante's bed had once been located, the very space where Dante died back in November. She stayed there all night. Until about 5 am... when I got up, and she and I met in the darkness and she was so startled she went speeding by me.
And then, she was gone.
Now, she could not have left the house; we had closed off the doors to two bedrooms and a storage room and she had nowhere to hide. Or so I thought. It was 12 hours later. I'd looked under every table, every piece of furniture, and even under the sink, where we have one of those carousel storage cabinets. No sign of her.
Another couple of hours passed. It was now around 8 pm. Surely this cat had to visit her litter box at some point. I mean, I know that I could not hold it in for 15 hours (let alone 15 minutes). So I checked under the sink again. And I suddenly saw two glowing eyes staring back at me. I talked in a high-pitched voice, "Come on, Cali, come on." And I went to fetch a flash light and returned---and she was gone again. I emptied the carousel of all its contents, and put my whole body under the sink---no small feat! And I discovered that there was this slit between the back of the cabinet and the wall. I got myself a mirror, and put the mirror diagonal to the slit, and I shined the flash light on the mirror. And there she was. God knows what was behind a slit that I never knew existed. And we've been living in this apartment for over 30 years! She wouldn't come out for anything. Not for food, water, or conversation.
I spoke to Dr. J and she suggested that we just leave the cabinet open and allow her to come out on her own. I took out a couple of old sheets, and a roll of duct tape, and told my sister: "If I should hear this cat in her litter box, then I'll know she will have left that little safe space, and I will race to the cabinet, stuff sheets in the slit, duct tape it shut, put everything back on the carousel, and duct tape the cabinet closed."
And so, sleeping lightly, I heard the scraping in that litter box. It was 4 o'clock in the morning, almost 24 hours from the time she had probably entered that space.
I raced to the kitchen to complete the mission of closing that hiding space. It was an exhausting 24-hour period.
When my sister got up for work a couple of hours later, I said to her: "Next time somebody offers us a new pet, slap my face!"
But it wasn't Cali's fault. After all, she had spent most of her life being bullied by her half-sister, and then when she came to the vet, she spent most of her life in a large cage, coming out to be nourished and nurtured, but still going back into that small space that was her home.
When she entered this apartment, with its seven rooms, it must have looked like a vast continent, too intimidating to explore. I'm happy to say that the trial period ended within about a week. Cali is now a new member of the Sciabarra family, and today, she has turned one year old. Happy birthday to Cali!
<![if !vml]>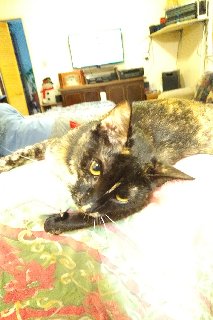 <![endif]>
Cali Stretching Out After "Playtime"

Two weeks after her arrival, I joked to Dr. J: "Cali is like the Indominus Rex in 'Jurassic World': She is discovering what life is like beyond the enclosure she had lived in for so long, and I'm not sure we want to find out how mischievous she will be in figuring out where she sits in the house hierarchy."
Well, we're slowly discovering that she is vying to become Queen of the Castle. And who is going to argue with her?
Judging by how she has explored this new continent, making bottle caps, rubber bands, and tissues into toys, in addition to her regular array of playthings, it is clear that she is a very young, very healthy, and very energetic cat.
<![if !vml]>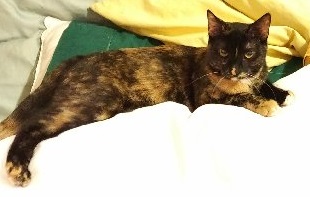 <![endif]>
Cali: Diva In the Making

We'll probably have a makeshift cake for her tonight, made of the finest ingredients, and sing her a chorus of "Happy Birthday."
In any event, I've gotten so used to writing loving obituaries, that I thought it was time to speak of this new joy in our lives. May Cali live nine lives and more---providing us with the gift of her unique character, with health and vigor. She is already getting all the love her new family can give her in return.
<![if !vml]>
<![endif]>
Cali: Dog Tired After Her All-Night, In-House, Nocturnal Run
The new July 2018 issue of The Journal of Ayn Rand Studies will be on its way to subscribers shortly and should be accessible through JSTOR and Project Muse very soon.
In keeping with our policy of adding at least one new contributor to the JARS family with every new issue, we welcome two writers who have never appeared in our pages before: Shawn M. Carraher (who is among the co-writers of the lead-off essay) and Allison Gerard.
As we begin our eighteenth year of publication, we have now published the work of 161 writers---who have contributed a total of 346 essays (obviously some have contributed or co-authored more frequently than others). When this journal started in 1999, I didn't think I could have counted more than a couple of dozen people who might have contributed to a nonpartisan, interdisciplinary, biannual, double-blind peer-reviewed journal devoted to studying Ayn Rand and her times. To say that our output has exceeded our expectations is an understatement. And it is clear that our collaboration with Pennsylvania State University Press, since 2013, has increased our accessibility and visibility exponentially, as our journal's essays are now reaching thousands upon thousands of readers worldwide (in both print and electronic form)---in educational, business, government, and not-for-profit libraries and institutions. In addition, we are now abstracted and indexed by nearly two dozen prestigious abstracting and indexing services.
Here is the cover for the new July 2018 issue:
<![if !vml]>
<![endif]>
Our Table of Contents includes the following essays (abstracts can be viewed here; and contributor biographies can be viewed here):
Developing an Instrument to Measure Objectivism - Eric B. Dent, John A. Parnell, and Shawn M. Carraher
Musing the Master's Tools to Dismantle the Master's House: The Fountainhead reads Doctor Faustus - Allison Gerard
Emigres on the October Revolution: The Suicide of Russia in the Novels of Ayn Rand and Mark Aldanov - Anastasiya Vasilievna Grigorovskaya
On Life and Value Within Objectivist Ethics - Kathleen Touchstone
Egoism and Others - Merlin Jetton
Not Enough Primary Categories in Peikoff's DIM? Salutary Eclecticism and An ACID Test - Roger E. Bissell
Reviews
Ayn Rand's Companions (A review of the Blackwell Companion to Ayn Rand, edited by Allan Gotthelf and Gregory Salmieri) - Fred Seddon
What Do We Need To Know? (A review of How We Know: Epistemology on an Objectivist Foundation by Harry Binswanger) - Robert L. Campbell
Finally, I'd like to alert those who are interested in submitting essays for consideration to visit our new interface, developed with the terrific assistance of Journals Managing Editor Astrid Meyer at Penn State Press. All essays should be submitted through Editorial Manager.
In the meanwhile, check out our new issue! And check out how to subscribe to the journal here.
Song of the Day: You're Looking Hot Tonight features the words and music of Barry Manilow, who celebrates his 75th birthday today. He opens his Vegas residency this weekend with concerts at Westgate Las Vegas. We've not officially started our Third Annual Summer Dance Party, but I figured it would be nice to post a rare 1983 dance track from Manilow. Check out the single version and then listen to the superior dance remix offered by Disconet [YouTube link].
Song of the Day: Dear Evan Hansen ("You Will Be Found"), words and music by Benj Pasek and Justin Paul, is a musical highlight from this 2017 Tony Award-winning Best Musical. With lead vocals by Tony-Award winning "Best Actor in a Musical," Ben Platt, the song is an inspiring call to "let the sun come streaming in" when "the dark comes crashing through." Tonight, another musical will take the top award at the Tony Awards. For now, we can enjoy a gem from last year's winner, featured on the Broadway cast album [YouTube link].
Today, I posted on the Timeline of my "Facebook friend," John Hospers, who died on June 12, 2011. But it is on this date in 1918, that this gentle man was born, and it is in remembrance of his wisdom, sincerity, and warmth as a human being, that I celebrate the Centenary of his birth.
John was one of the most important figures in the formation of the modern libertarian movement. Yes, he was the first (and only) Libertarian Party presidential candidate to receive a single Electoral Vote (made by Roger MacBride, a renegade Republican from Virginia, who refused to cast his vote for Richard Nixon in 1972; MacBride, himself, would later go on to run for President on the LP line in 1976). But more importantly, he was the author of the monumental book, Libertarianism: A Political Philosophy for Tomorrow, not to mention a veritable library in philosophy, political theory, and social commentary.
On a personal level, I will always be thankful to John for having been among the very first scholars to offer praise for my book, Ayn Rand: The Russian Radical, and went on to become one of the first members of the Board of Advisors to The Journal of Ayn Rand Studies, back in 1999. That journal was founded as the first nonpartisan double-blind peer-reviewed biannual periodical devoted to a discussion of Ayn Rand (with whom John Hospers once shared a friendship) and her times. And here we are still, on the precipice of the beginning of the eighteenth year of our publishing history, now a journal published by Pennsylvania State University Press. We could never have come so far if it were not for John's unwavering support for (and contributions to) the journal.
I will forever be indebted to this man for his accomplishments and his guidance. All the more reason to celebrate the Centenary of his birth and the joy that he brought to so many during his life.
Song of the Day: The Horse, words and music by Jesse James, was a million-selling #2 hit on the Billboard Hot 100 and R&B charts. It was technically the instrumental B-side of the 1968 single "Love is All Right" [YouTube link], by Cliff Nobles and Company. A slice of Philadelphia soul at its best, it boasts a horn section that went on to become the group MFSB. I provide this second "Song of the Day" for one reason only: Today, the Horse, Justify, vies for a place in Thoroughbred Racing History, looking for a win at the 150th running of the Belmont Stakes to take the Triple Crown. Go Justify! And check out this classic instrumental [YouTube link]. [Ed: And Justify becomes the 13th Horse in History, and only the second undefeated Thoroughbred, to win the Triple Crown!]
Song of the Day: Summer: The Donna Summer Musical ("Heaven Knows") features the words and music of Giorgio Moroder, Pete Bellotte, and Donna Summer, whose recording of this 1978 song (with the background vocals of The Brooklyn Dreams and lead vocals by Joe "Bean" Esposito) reached #4 on the Billboard Hot 100, #1 on the Billboard Dance Club Chart, and was a Top Ten R&B hit. The song, from Summer's album "Live and More", is also featured in "Summer: The Donna Summer Musical," which boasts two Tony nominations for Leading Actress and Featured Actress in a Musical (LaChange and Ariana DeBose, respectively, who play Donna at different points in her life). Check out the original Summer single, an alternative take with Esposito singing the lead vocal, the original 12" single version, the 12" Purrfection Version, and finally, "The MacArthur Park Suite," of which this song was a part (13:26 in the suite) [YouTube links].
Song of the Day: Broadway Gondolier ("Lulu's Back in Town"), words by Al Dubin, music by Harry Warren, is from the 1935 Warner Brothers film musical. Powell provides the vocals, with the Mills Brothers, for this song in the movie [YouTube link]. The song was also performed by Fats Waller, the Hi-Lo's with the Nelson Riddle Orchestra and in a swinging take by Mel Torme [YouTube links]. With the Tony Awards being broadcast on CBS on Sunday night, this is a Broadway weekend, even if this particular song didn't come from a Broadway show!
Song of the Day: Erotic City features the words and music of Prince, the sixtieth anniversary of whose birth we celebrate today. Recorded by Prince and the Revolution in 1984, this song was released as the B-side to the Purple One's classic "Let's Go Crazy." And I can think of no song more appropriate to showing the "naughty side" of this Naughty Boy. The song, with co-lead vocals by Sheila E., is not freely available on the web, but you can hear an excerpt at Amazon.com.
I was only three years old when President John F. Kennedy, had been shot and killed in Dallas on November 22, 1963 [graphic YouTube link]. I was at my grandmother's house that day; she had fallen, and my mother took me in her arms and ran to the house to help out. While there, "As the World Turns" was on TV, and Walter Cronkite had interrupted the broadcast with a series of special reports about the JFK shooting in Dealy Plaza. For days thereafter, all the TV networks devoted 24-hours of coverage leading up to the funeral and burial at Arlington Cemetery. Among the shocking events that unfolded before my young eyes was to witness live, on television, the shooting of the alleged assassin, Lee Harvey Oswald, Jr., by Jack Ruby [graphic YouTube link].
This was my introduction to the 1960s. Those who speak much today about how polarized our society is tend to suffer from a case of historical amnesia. I don't think I ever lived through a more turbulent period than that which lasted from 1963 through the mid-1970s.
By the time I was 8, I had already seen a President shot, followed by years of nightly news coverage of civil rights and antiwar protests, both violent and nonviolent, along with scenes of carnage coming from Southeast Asia and thousands of body bags of U.S. soldiers returning to American soil each week. Within a few years, there were revelations of government lies about that war coming to light from the "Pentagon Papers," followed by all the lies that could be summed up in one word: "Watergate." Trust in government institutions was at an all-time low. Sound familiar?
On April 4, 1968, I felt bewildered by the assassination of Dr. Martin Luther King, Jr. We watched as the special reports came in on television, around the time of the evening news, with regard to King's assassination [YouTube link]. That night, Robert F. Kennedy gave a famous speech about the assassination in Indianapolis, Indiana [YouTube link], as cities across the United States were lit up with riots and violence. I returned to my neighborhood school the next day; it was P.S. 215, and our principal's name was Morris H. Weiss, and we were all encouraged to talk about the events of the previous day. (By the time I had graduated from that school, it had been renamed the Morris H. Weiss School!) But I remember all-too-well, the sadness that I saw in the eyes of one of my classmates. Her name was Wanda and she was a young, bright, African American girl. She said to me: "One of your kind of people shot one of my kind of people." And I said to her: "That white guy was a bad man. Not all white people are bad. There are good and bad in every group." And she seemed to relax after I had said that. What I said wasn't as profound as the speech RFK had given, but it seemed to have had a similar effect.
Little did I know that almost two months later, to the day, Robert F. Kennedy would fall to another assassin's bullets. It was June 5, 1968, around 3:30 a.m., fifty years ago today, when the phone rang. Usually, when a phone would ring at that hour in our home, it could only be bad news. It was my Aunt Georgia, who was a late night TV watcher, back in the days when Johnny Carson was hosting "The Tonight Show" on WNBC and WCBS was showing movie after movie with something it dubbed "The Late Show" and "The Late Late Show," and so on. She told us to turn on the TV: "Robert Kennedy was shot!" [graphic YouTube link].
We turned on our black-and-white television, and what we saw was pure pandemonium [YouTube link], but I remember seeing photos of RFK laying in a pool of blood. I don't recall going to school after daylight arrived, and the following day, June 6th, was Brooklyn-Queens Day, when schools in Brooklyn and Queens were closed. And it was in the early morning hours of that day, nearly 26 hours after being mortally wounded, that Robert F. Kennedy was pronounced dead.
We watched the RFK funeral, which took place at Saint Patrick's Cathedral in New York City on June 8th, and I remember well the eulogy given by another Kennedy brother, Ted, as he spoke through his tears [YouTube link]. Ted quoted RFK's words, which were actually a paraphrase from a work of George Bernard Shaw. It is a quote etched on the side of a building in downtown Brooklyn, once belonging to the Brooklyn Paramount, taken over in 1954 by Long Island University: "Some men see things as they are, and say 'Why?' I dream things that never were and say 'Why not?'".
It was an inspiring quote to me at the time. And I suspect that with all the intense news coverage that I watched as a child, my interest in history and politics took root. It was not all doom and gloom, because I was also a kid enthralled with the space program, and the images of seeing Neil Armstrong taking his first steps upon the moon on July 20, 1969 [YouTube link], were heroic enough to make me truly realize that the things that never were, could be.
And so I mark today's fiftieth anniversary of RFK's assassination. It makes no difference if you were a fan or an opponent of his politics or the politics of other public figures who were shot down in the 1960s. I mark this date because, like other moments from that difficult time period, it was one of the defining events that shaped my own political consciousness and that of a generation to come.
I don't usually write on matters of local politics, but this particular matter has gotten me so incensed that I felt an obligation to say something public about it.
I will put my biases upfront so that there is no question as to my knowledge of the NYC public schools, as I, myself, was a product of the largest public school system in the United States, serving over 1.1 million students. I am an alumnus of John Dewey High School, which was, in its time, one of the finest high schools in the system, offering a highly individualized curriculum within which students could pursue their academic passions guided by teachers of the highest caliber.
I should also mention that my sister, Elizabeth A. Sciabarra, has been a lifelong and gifted educator within the system, and has fought for years to provide quality education to the thousands of children whose lives she has touched. She was a teacher of English and an Assistant Principal at Brooklyn Technical High School, a principal at New Dorp High School on Staten Island, the Deputy Superintendent of Brooklyn and Staten Island High Schools, and then the Superintendent of Selective Schools. Under Schools Chancellor Joel Klein, appointed by Mayor Michael Bloomberg, she became the founder and CEO of the Office of Student Enrollment in 2003, a job that she held until her retirement from the system in 2010. She helped to augment educational choice in the public schools (which now includes a promising movement toward enterprising Charter Schools). Elizabeth is currently the Executive Director of the Brooklyn Tech Alumni Foundation.
Anything that I say in this blog entry is a reflection of my own views and I take full responsibility for them; in no way should they be interpreted as being an echo of my sister's views, whatever they might be.
Suffice it to say, I have always taken a radically libertarian stance on the state of public education in this country (something that is being addressed by such organizations as the Reason, Freedom, Individualism Institute, of which I am an advisory board member). But I've always been one to think dialectically; we live in a context in which public education is the primary vehicle for the education of children in the United States. Given this reality, it is all the more encouraging when one finds that there are certain institutions of learning within the current system that should be nurtured. It is in the interests of gifted and talented students to be nourished as potential candidates for entrance into these schools.
For years, students gained entry into the specialized high schools of New York City via a single admissions test (known as the SHSAT or "Specialized High School Admissions Test"). In 1971, the Hecht-Calandra Act institutionalized this test as the sole determinant for entrance into these schools, via ranking.
Now, I've never been a fan of specialized tests; my own test scores on such tests have varied immensely. I once considered going into a joint degree program in History and Law, which required me to take the LSAT, which lasted eight hours, and was more of an endurance test than a test of my intelligence. The following weekend, I took the three-hour GRE, a kind of graduate-level SAT. I had applied to the joint degree programs at the University of Chicago, Columbia University, and New York University, which would have led to a J.D. and a Ph.D. in history. As it turned out, my scores on the LSAT weren't high enough to be accepted to any of the law schools of those universities, but my GRE test results were so high that I was accepted to the graduate schools of those universities. In the end, I did not go into a joint degree program, and decided to pursue my interests in political philosophy, theory, and methodology with a graduate and doctoral program at New York University, from which I had received my B.A. in economics, politics, and history (with honors). Those GRE test results ultimately enabled me to get my degrees in higher learning virtually free of charge, since I was rewarded full scholarships to pay for my education. Given the cost of education in this country, I figure that I received three college and graduate level degrees that, in today's dollars, would be over $400,000 in tuition and fees. I did receive, as an undergraduate, one $450.00 National Direct Student Loan, which I paid back on the day I got my BA. Otherwise, my education was fully funded and paid for by New York University, which explains why I bleed "violet," as they say.
And to make matters clearer, I graduated with a Grade Point Average of 3.85 overall as an undergraduate (with a 3.9+ in each of my majors, except economics, which was 3.7+), and a 3.84 GPA overall as a graduate and doctoral student. So, I don't believe that specialized tests are necessary indicators of how well one will do in the larger scheme of things.
But standards there must be, and for state law to require the taking of a specialized admissions test in which students are ranked according to their scores and placed in various specialized high schools, based on the ways in which students prioritize their schools and the number of seats available at such schools, seems an eminently reasonable way to proceed.
Well, not according to the Diversity Police. A new bill, Bill No. A10427, is being introduced by New York State Assemblyman Charles Barron that spells the beginning of the end of the last remaining gems in the New York City Public School System, among them: Stuyvesant High School, Brooklyn Technical High School and the Bronx High School of Science. These high quality educational institutions have among their gifted and talented alumni an array of Nobel laureates in biology, chemistry, physiology and medicine, physics, and economics, Pulitzer Prize winners, Academy Award winners, and an almost countless number of accomplished leaders in politics, law, business, science, technology, athletics (including Olympic gold medalists), music and the arts.
To attack the admissions test as the basis by which students gain entrance into these schools is a misplaced priority. If certain students are not scoring high enough in their rankings, the blame should be placed on their pre-high school educations, which are not preparing them well enough to have the opportunity to enter these institutions. The priority should be on improving the quality of pre-high school education, not on eliminating the one 'objective' standard by which students gain entrance into the system's preeminent high schools.
Those who are most concerned about the relative decrease in the number of African American students in the specialized high schools ought to consider one statistic. Back in the 1980s, to take a single example, Brooklyn Technical High School had a student population that was approximately 46% African American. These gifted and talented students all ranked high enough to get into one of the great specialized high schools. And back then, there were only three specialized high schools (the ones mentioned above) that based their entrance requirements on the test. So, if anything, that statistic shows that African American students were doing well enough in an environment that was even more competitive, since there were fewer schools and fewer seats to fill.
What happened? We can argue all day and all night over the reasons for the changing student demographics in the specialized high schools, but clearly something has happened to the quality of pre-high school education that must be addressed. For Mayor de Blasio and his new chancellor, Richard Carranza, to advocate the abolition of the test for entrance into NYC specialized high schools is hypocritical at best. As Chalkbeat, an online education publication put it, "[a]fter a long wait," De Blasio, who has always advocated for more "equity" in school placement, is now looking to scrap the test entirely.
How convenient. I wonder if the mayor waited to launch his long-promised attack on the specialized high schools until his son Dante had graduated from Brooklyn Tech. The mayor is married to an African American woman, Chirlane McCray, and Dante was not admitted to the school based on either his race or ethnicity or his relationship to the man who would become Mayor of New York City. Dante de Blasio got in because he scored and ranked high enough on the SHSAT to earn admission into Tech. He had an outstanding record as a student of one of the city's most prestigious schools. He and one of his Tech classmates captured the state high school debate championship in March 2015, and he is now a student of Yale University.
So, with one of his own children having benefited from the high quality education offered by one of the city's "elite" high schools, our "progressive" mayor can now attack the institutions that certainly nourished his own son's academic excellence. What the mayor now proposes is to begin the process of eroding the key entrance requirement for the specialized high schools, the first step toward destroying the high quality that they offer to students who qualify. He should concentrate his energies on raising the standards of the public school system in toto---particularly education in New York City's elementary and middle schools---rather than attacking its gems at the high school level. Achievement is not a matter of quantity or quotas, but of quality and enrichment.
The fact that this amended bill was introduced last night, right before an early June weekend, preceding a Sunday press conference by the Mayor and the Chancellor, gives us an indication of the kinds of strategies that are being used by the opponents of quality education.
These politicians need to be put on notice: We do not raise the quality of education by attacking standards; we raise standards to generate and nourish quality.
Postscript (4 June 2018): On Facebook, I expanded on my Notablog post. Here is what I had to say:
DeBlasio and his new chancellor were sloganeering yesterday at their press conference, saying "It's the system, not the student."
Well, they got that much right. It is the system, not the student. It is a system that has to be fixed from the root up. And the root begins in the elementary and middle schools. These schools are failing the kids---whether it is due to destructive pedagogical techniques that undermine the development of young minds, or to the horrific social conditions within which certain schools are situated, making them incapable of delivering a quality education, or any number of other factors. Resources need to be shifted toward the elementary and middle schools to prepare children for the kind of quality education that is offered by the specialized high schools in New York City. You can't hope to fix the system at the level of the high schools, when the damage has already been done at the pre-high school level.
And you can't raise the quality of education, by eliminating quality standards altogether. If you don't have a single test that might provide for at least one objective measure for a ranking of students, then what you will see is the liquidation of all standards, and the substitution of a host of "subjective" factors---including, by the way, favored treatment of particular schools by the politically powerful who will ask the administrators of these schools to give entrance to this student or that student, if they want to retain their "specialized" status. Don't kid yourselves: This has been attempted in the past, but the practice has been thwarted fundamentally because there is a legalized process that was put into place to guide entrance into the specialized high school curriculum.
Now with regard to specialized tests: One point I made in my Notablog entry was that clearly a single test does not always predict the level of achievement for any particular student, and I used myself as an example. So, if the NYC Department of Education wants to compel the specialized high schools to look at a broader range of criteria by which to measure entrance into these schools, that's one thing. It is something entirely different to seek the total elimination of the specialized high school exam.
But then another factor will have to be addressed: Many of these specialized high schools have benefited from donations from their most prestigious graduates---those who have achieved greatness in their careers and who seek to "give back" to the specific schools that nurtured them. If the politically powerful seek to destroy specialized education, I suspect that private donations to these schools that have nurtured the gifted and talented will eventually dry up. Because of limited state and local funding of education, the effects of the proposed policy changes could be catastrophic for specialized education.
In the end, it is typical of political "solutions" to pit class and ethnic groups against one another. We are hearing a lot about whites versus African Americans and Latinos. Interestingly, however, the "solution" being offered by this administration will ultimately disadvantage Asian students, who come from "minority" immigrant groups in New York City and who make up by far the greatest proportion of students in these specialized high schools at this time. So this politically charged issue is indeed full of potholes, and it will only exacerbate ethnic and racial division.
Finally, let's talk a bit about one specialized high school that does not base its admissions policies on the specialized test rankings: LaGuardia High School, which owes its origins to an integration of the High School of Music and Art and the High School of the Performing Arts. Children are admitted into this school based on their auditions and portfolios, taking into account academic and attendance records as well.
Nobody has suggested---at least not yet---that students must be admitted by not auditioning at all. Or that students must be admitted even if they have shown absolutely no experience or accomplishment in the areas of music (whether instrumental or vocal), art (whether the fine arts or the technical arts), drama, dance, or theater. These are as essential to a good education as any of the other subjects students are compelled to take in their pre-high school years. Music and art were requirements when I went to elementary and middle schools here in NYC, back in the stone age. It was one way of helping to discover and nourish the artistically talented among an amazingly diverse student population.
By the time De Blasio and his cronies are finished, the first casualties will be the children---whose talents are stunted by a system that is incapable of raising them up, because it is so busy crushing their dreams.