Song of the Day: Put a Little Love in Your Heart, words and music by Jackie DeShannon, Randy Myers, and Jimmy Holiday, was a top 5 DeShannon hit on the Billboard Hot 100, and was also one of the songs found on the jukebox of the Stonewall Inn, the bar and its surrounding area now a National Monument. But back in 1969, it was a virtual war zone, when just another routine police raid sparked a riot, whose effects have continued to reverberate throughout our culture. I have always seen this day as an essentially libertarian achievement, one that ultimately aimed for the recognition of the rights of individuals, who felt the sting of social and political policies designed to oppress, to humiliate, to dehumanize, and to marginalize people because of who and how they love. So "Put a Little Love in Your Heart," and celebrate that date in 1969, when men and women of difference stood up and said: "I'm as mad as hell, and I'm not going to take it anymore" [YouTube links]. We've come a long way since then; "don't ask, don't tell," which made a whole class of people dishonest by definition, is no longer our military policy, and same-sex marriage has recognition across the country in our civil laws. But in a world that fears difference, a backlash is not hard to fathom (Orlando is only the tip of the unimaginable). It has been said that "the price of liberty is eternal vigilance," and whoever said it (there have been historical debates) uttered a truth that our culture forgets at its peril. For the whole point of liberty is not to create a society of homogenization, hypocrisy, and conformity; it is to provide a safe haven for difference.
At the Jacobson Veterinary Clinic, our Little Dante, in his coral cloak (photo courtesy of Dr. Linda Jacobson):
<![if !vml]>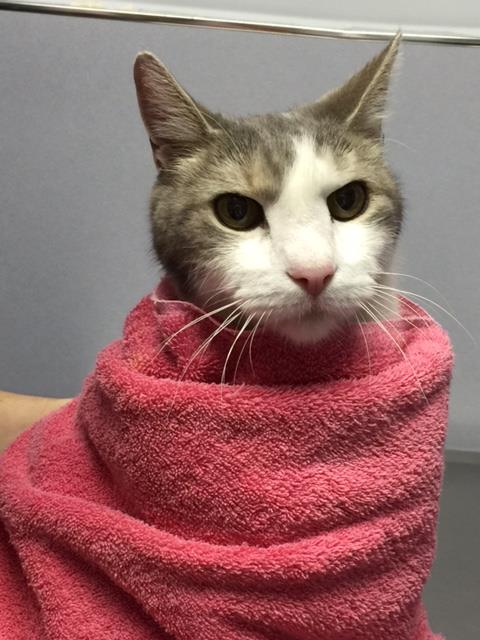 <![endif]>
Well, would you be happy at the vet if you were a cat?
Song of the Day: Hollywood Tonight features the words and music of Brad Buxer, Teddy Riley, and Michael Jackson, who, on this date in 2009, passed away at the age of 50. This was the second single released from the 2011 posthumous album, "Michael." The video is a paean to Jackson in every way, and the lead dancer, Sofia Botella knocks it out of the park in getting down some of MJ's classic dance moves. The track went to #1 on the Billboard Dance Chart, and it's not hard to see why. Check out the original mix (and video), the Throwback Mix, and DJ Chuckie Mix [YouTube links]. This is the official start of our "Saturday Night Dance Party," where every Saturday from now until the end of summer, a dance floor staple from the 1970s to today will be the featured "song of the day." What better way to kick off our celebration of the dance floor (and many New Yorkers will be dancing at the weekend's Gay Pride Events) than to remember the King of Pop whose music and talent as the quintessential "song and dance" man of his generation still uplifts the spirit, even on a sad June day of remembrance.
Song of the Day: Back to Life (However Do You Want Me), music and lyrics written by Jazzie B, Carol Wheeler, Nellee Hooper, and Simon Law, who constituted the British R&B group Soul II Soul, took this 1989 song to #1 on the Billboard Dance Chart. It's Monday, but the summer solstice arrives in Brooklyn at 6:34 p.m, and for the first time in nearly 70 years it syncs with a full moon (a so-called "strawberry moon"). What truth in that title, for summer brings us all "back to life." This summer on Notablog, every Saturday, we'll have our own little "Saturday Night Dance Party," and feature a classic dance song, running from the 1970s to today's contemporary dance hits. But it's always nice to start with a so-called "sleaze beat" dance track, that sensual R&B pulse that New York beachgoers could hear blaring out of many a "boom box" every summer, from Coney Island to Brighton Beach to Manhattan Beach. This party will continue until the Saturday before the Autumnal Equinox on September 22nd. I'm doing this because I still have a humongous vinyl collection of favorite dance hits, having been a mobile DJ in the 1980s, playing everything from senior proms to Bar Mitzvahs! Anyway, check out the original a cappella version and the utterly wonderful R&B classic hit on YouTube. And here's a special nod to the Cleveland Cavaliers, who came "back to life," down 3 games to 1, to take Game 7 and win the NBA championship!
Song of the Day: Stitches, words and music by Danny Parker, Teddy Geiger, and Daniel Kyriakides, was a top 5 Billboard hit for Canadian singer, Shawn Mendes, for his 2015 debut album, "Handwritten." As I watched the 70th Annual Tony Awards last night, I thought of this song [YouTube link], for the Awards show opened with a tribute to the 50 known dead, murdered in an Orlando, Florida gay dance club, Pulse, which has also left more than 50 people injured, many of them critically. I've wanted to post this song for a long time, for the young singer seems to capture the pain of someone who has lost his love; but today, when I read some of the song's lyrics, I cannot help but think of this terrible tragedy, the worst mass killing in U.S. history (not counting the obscenity of 9/11). "You watch me bleed until I can't breathe," Mendes sings. "Shaking, falling onto my knees; And now that I'm without your kisses; I'll be needing stitches; ripping over myself; Aching, begging you to come help; And now that I'm without your kisses; I'll be needing stitches..." No stitches will bring back the loved ones who were massacred in that club. For the LGBT movement, living in a country that until recently didn't even recognize their civil right to marriage--"civil right" has never implied that religious institutions be forced to perform gay marriage ceremonies--this is truly a horrific tragedy. This community opened the doors of a dance club peacefully, joyfully, welcoming people of all lifestyles, to celebrate a Gay Pride month that marks the anniversary of that day in libertarian history when the gay rights movement was born at the Stonewall Inn, when drag queens were sick and tired of being harassed and arrested, and having their clubs routinely raided by the tormenting forces of law. It took decades for that community to get certain civil rights recognized under the constitution as applicable to all people. But it wasn't just the opposition of the police and the law that the LGBT movement faced. The process of "coming out," after all, is something that is intensely personal; many gay men and women have also dealt painfully with the rejection of their parents of various faiths, who have viewed homosexuality as a sin, punishable by everything from excommunication to prison, and in some tribalist cultures, even death by stoning. They say that this terrorist act was committed by an ISIS-motivated gay-hating whackjob; but there was a time in this country that the death of 50 people, most of them probably gay, would have been a party event for those on the Christian Right, who, like Fred Phelps, showed up at the funeral of the murdered, martyred Matthew Shepard, with placards declaring "God hates fags" and that the young gay man was now condemned to eternal damnation in hell because he had not repented. And let's not let the left off the hook either, for communist societies have been known for their gay gulags, many of them adhering to the Marxist mantra that homosexuality was simply a sign of the decadence of capitalism. Let me be clear: This is not a fight simply of doctrinal religious differences or political differences. It is a fight that goes to the deepest core of a society's cultural values. Until a time comes when people can simply live their lives free of coercion or of coercing others, there is not an individual alive in this country who will be safe from the culture of hate, a culture that simmers when stoked by rejecting parents, holier-than-thou religious leaders, and prejudiced politicians. A few years ago, the U.S. government invaded a country in the Middle East, and partially justified the insanity as an exercise in "nation-building"--in a section of the world that still has no conception of what a nation is or what kinds of nonbarbaric cultural values any human society must embrace in order to sustain itself: values such as the rule of law, the sanctity of individual rights, and the pursuit of justice. The apocalypse that has resulted is the kind of blowback that people of good will warned against at the time. Today, however, this is not just a fight for your right to liberty and or your right to justly-acquired property, but a fight for your very right to life, your very right to exist, whatever sexual orientation you are. This is a country and a world that will not, and cannot, be held together in "stitches." Every person of any orientation must be able to find the courage, the "eternal vigilance" that it takes to preserve life and liberty. Those who kill in the name of a hateful God are truly of the godless; and if there is a hell, it is not the innocent dead in that club who will be consumed by its inferno, but the killers themselves who will burn on the very ninth circle they wish to create on earth.
Song of the Day: Bye Bye Birdie ("A Lot of Livin' to Do") is another gem from the Adams and Strouse soundtrack to the 1960 Broadway musical. Check out the original Broadway cast recording, the 1963 ensemble film version, and a few really swinging renditions by: Chita Rivera (who was in the original musical; this one is about 2 minutes into her "Great Performances" concert), Sammy Davis, Jr., Judy Garland, Jack Jones, and Nancy Wilson [YouTube links], which only goes to show how much of Broadway's music has made its way into the Great American Songbook. So we end our mini-Broadway tribute today; enjoy the Tony Awards tonight!
Song of the Day: Bye Bye Birdie ("Kids") is a sweet and funny song from the Adams-Strouse songbook for "Bye Bye Birdie," a 1960 musical I'm tributing for three days, since I'm a 1960 baby. Paul Lynde made a career in the center square of the old game show "Hollywood Squares" (for which he won two Daytime Emmy Awards, his answers so typically hilarious), and, of course, he was the warlock Uncle Arthur on the classic TV series, 'Bewitched." But he shines in song as well, with his duet partner Marijane Maricle (on stage) and Maureen Stapleton (in film), in both the original stage production and in the film version [YouTube links].
Song of the Day: Bye Bye Birdie ("Put on a Happy Face"), with lyrics by Lee Adams and music by Charles Strouse, was a memorable song from the hit Tony Award-winning "Best Musical" in 1961 (for the 1960 season). As a 1960 baby, I'm tributing three of my favorite songs from that year from this musical, also adapted for the film version. It was, of course, the 1963 screen version that I saw as a kid and loved. Check out the cast album version and the film version [YouTube links] (both performed by the ever-cheerful Dick van Dyke, joined by Janet Leigh in the film version) and then jump on over to the joyful rendition of our Queens-born neighbor, Tony Bennett [YouTube link], who turns 80 years old on August 3rd (and we'll be doing a mini-tribute to him as well).
Song of the Day: Hello Dolly ("Hello Dolly") is the memorable theme from the 1964 Broadway blockbuster that featured the music and lyrics of Jerry Herman. The musical faced stiff competition from Barbra Streisand's sparkling star turn in the Broadway production of "Funny Girl," but it swept the night, winning 10 Tony Awards, including one for Carol Channing over Streisand. Streisand would later win a 1970 Special Tony Award for "Star of the Decade." And it is not without some irony that she went on to play the Dolly role that Carol Channing made famous in the Gene Kelly-directed 1969 film adaptation of the musical. So here's a nice line-up for comparison: the original Channing rendition with the ensemble, the Streisand film version, which included Louis Armstrong, and, my favorite version of all time: the Louis Armstrong solo version [all YouTube links], which reached #1 on the Billboard Hot 100 on May 9, 1964, ending 14 consecutive weeks at #1, dominated by various singles from an obscure British band.
Song of the Day: Oklahoma! ("Oklahoma!") was the first musical that teamed composer Richard Rodgers and lyricist Oscar Hammerstein II. The original Broadway hit opened on March 31, 1943, and hence, it preceded the first Tony Awards. It did, however, receive special Tony recognition on the occasion of its 50th anniversary in 1993. But that doesn't mean we can't jump from a mini-Prince tribute to a mini-Tony Award Tribute in honor of the American stage. The main title was delivered in the original production by Alfred Drake and Chorus [YouTube link] and the original album released by Decca Records on 78 r.p.m. records, was the first Broadway cast album to sell a million copies. We should also note that this musical spawned countless revivals and, of course, the wonderful 1955 film version, in which it is Gordon McRae who delivers the unforgettable theme [YouTube link].
Song of the Day: 1999, words and music by Prince, is one of my absolute all-time favorite tracks from The Artist (especially the extended album version) [YouTube link]. Come on now, everybody, "Don't Ya Wanna Go! . . . Everybody, everybody say 'Party'." This was the title track from that 1982 classic album, it has a wonderful groove. Like Michael Jackson, Prince was a child of 1958; today would have been his 58th birthday. Both men are gone, having never reached 58, but on this Prince birthday, we can still "party like it's 1999," in tribute to him; it is reported that he left behind enough recorded music in his vaults for albums that could be issued one per year for the next century! Tomorrow, we switch gears big time: a mini-tribute to some of the music of Broadway, in honor of the Tony Awards on June 12th.
Song of the Day: I Feel for You, words and music by Prince, first appeared on Prince's self-tited 1999 album. Check it out here (YouTube link). There have been other versions of this song, including one by the Pointer Sisters and the other by Rebbie Jackson (MJ's sister). But I have to admit that my favorite version is the one featuring, come on, altogether now: "Chaka Khan," Chaka Khan..." Here's the single version, the biggest hit of Chaka's career, but I love the extended version. I mean, how can you miss with Chaka's vocals, Stevie Wonder's harmonica, rapper Melle Mel, and The System's David Frank? For Chaka, it peaked at #3, but was on the Hot 100 for 26 weeks.
Song of the Day: Nothing Compares 2 U, words and music by Prince, for a side-project band called "The Family" from their self-titled 1985 album. Sinead O'Connor had a huge hit with this one, but I still love the original Prince version. Check out that original here, and the O'Connor version here [YouTube links]. I should note that on June 3rd, America lost one of its most controversial and entertaining cultural icons and nothing compared to him either: "The Greatest" Muhammad Ali.
Song of the Day: U Got the Look, words and music by Prince, was the highest charting single on the Sign O' the Times album, reaching #2 on the Billboard Hot 100. It also featured singer Sheena Easton. Check out the rhythmic track on YouTube. Prince wrote for many other artists, and was never intimidated in playing with the greats whom he idolized. Ironically, it is said that he truly idolized Michael Jackson, and was deeply saddened by MJ's passing ["We're always sad when we lose someone we love," he is quoted as saying]. Both men, born in 1958, are now gone; their rivalry, sometimes intense, prevented the two of them from ever recording a duet together. But that is now an asterisk in music history (though Prince did pay tribute to MJ in concert performances of "I Want You Back," "Don't Stop Til You Get Enough," and "Shake Your Body"). Prince did have the chance to work with other musical giants; check out this wonderful collaboration between Prince and Miles Davis from a 1987 concert. Though it's not yet his birthday, Prince will be celebrated all afternoon today in Brooklyn's Bedford-Stuyvesant Restoration section, a party hosted by Spike Lee.
Song of the Day: Sign O' the Times, words and music by Prince, is the title track of his 1987 album. The song sure showed that Prince had his fingers not only on the frets of the guitar, but on the fret of social ills that plague us till this day. Check out the official video on YouTube.
Song of the Day: Delirious, words and music by Prince, was a notable single from the 1982 Prince and the Revolution album "1999." The song was a Top Ten Hit (reaching #8 on the Hot 100) and offered a quirky, literally "delerious" rhythm. Check it out on YouTube.
Song of the Day: Controversy, words and music by Prince, begins our mini-birthday tribute to the Purple One, who tragically passed away last month, but whose birthday we will celebrate on June 7th. And I'll have plenty of Prince songs featured in next year's February Film Music Month (and in a special musical project I have planned for the Summer of 2016). I have already listed several Prince classics on "My Favorite Songs" list: check out "Baby I'm A Star", "I Wanna Be Your Lover," and "Let's Go Crazy.") Today, I begin with one of my favorites; it showed an edgy musician who was willing to play with his audience: "Am I black or white? Am I straight or gay?" he asks at the beginning of the song, which has a nice groove. It was the title track to his 1981 album, and though it went no higher than #70 on the Hot 100 or #3 on the R&B chart, clearly the dance club crowd was ahead of the groove, bringing the title to #1 on the Hot Dance Club chart. Prince was very protective of his recorded music, so check out the link to a live version here.