This photo essay, published on 3 October 2005, is exclusive to Notablog. All photos taken by Chris Matthew Sciabarra (or his sister Elizabeth).
By Chris Matthew Sciabarra
Perhaps I could have titled this photo essay, "What I Did on My Summer Vacation." But in a sense, this "Champions Plus Tour" of one of the great cathedrals of baseball is a tour for all seasons. I may have been one of those 4,090,696 who attended a game this past summer, but I'm now also among a group of more "elite" fans who chose to tour The House that Ruth Built.
On one hot summer day, my sister Elizabeth and I disembarked from the #4 train at 161st Street in the Bronx, and walked to the Press Gate of Yankee Stadium. There, we were met by our tour guide---a guy named Jake.
The Stadium---which opened on April 18, 1923, and was renovated in 1975-76 in time to reopen at the beginning of the '76 season---is due to close permanently in a few years. Across the street at what is now Macombs Dam Park (right below), a new Yankee Stadium will rise to replace the old one, which will be dismantled and made into a neighborhood playing field. The New Yankee Stadium will resurrect some of the 1923 design, wedded to the newest technology. But let's face it: It won't be the original Yankee Stadium anymore. It won't be the playing field (left below) of Ruth, Gehrig, DiMaggio, Rizzuto, Mantle, Berra, Ford, Munson, Reggie or Guidry. There will be new greatness to celebrate, but the old field will be retired like those All-Star numbers in Monument Park. All the more reason to tour the current stadium now, with all its Yankee Tradition still intact.
Current Yankee Stadium Field (l); Coming Yankee Stadium Field, now Macombs Dam Park (r)

The first stop on the tour was the Press Box, from where I took a photo of the field (above l). The Yankees were out of town at the time, and I confess it was weird seeing a field without base bags and with 50,000+ seats ... empty. From the Press Box, you could see the booth from which emanates the God-like Voice of Yankee Stadium, Bob Sheppard. And you could also see the radio and television booths, along with quite a few luxury box suites. Which we'll never be able to afford. They're currently going for around $800,000 per luxury suite; that price should climb to about a million in the new stadium. But it was damn nice to actually sit in one of those suites, with their full service kitchens, private restrooms, and closed circuit televisions.
From the Press Box, we made our way to the clubhouse. Yes ... the Yankee locker rooms! And we were told to put away our cameras (no videos allowed, just snapshot photography). Apparently, some previous visitors to the clubhouse took snapshots of Derek Jeter's jockstrap, and these snapshots made their way into the New York Post or some such tabloid. So, we were warned: This is a private domain, not to be photographed for public circulation.
But we could certainly talk about what we saw. And it wasn't Derek's jockstrap, just one owned by the 6'10", 225 lb. pitcher, Randy "Big Unit" Johnson. Jeter, the All-Star shortstop and Yankee captain, actually has two lockers: One for him (and his boxes upon boxes of sponsor-supplied sneakers and cleats, all size 11.5) and one for his fan mail, quantities of which outdistance virtually all the other Yankee team members combined.
Next to Derek's locker is an empty one: The one that belonged to former Yankee catcher and previous captain, Thurman Munson, who, tragically, was killed in a plane crash back in 1979.
Before moving on, we glanced at the lockers of Hideki Matsui (who seems to love Xylitol gum), Gary Sheffield, Alex ("A-Rod") Rodriguez, Mariano Rivera, and so many other Yankee stars.
Coming out of the clubhouse, the Sciabarra camera went into action again. We walked down the hall from the clubhouse to the home team dugout. It's a walkway that has the immortal words of Joe DiMaggio etched in a sign that hangs from above: "I want to thank the Good Lord for making me a Yankee." So many Yankee players touch that sign on the way to the field. So ... I touched it too. Like a kid in the proverbial candy store, I couldn't resist.

DiMaggio's Inspiration

Walking into the Yankee dugout was quite a thrill. We've seen this dugout for years, attending games, watching on TV. But there's nothing like sitting on the padded seats where some of my all-time favorite players have sat. And, unlike on game days, the dugout was clean ... no peanut shells or spittle on the ground.
Here are a few photos of the Yankee Dugout and the Field of Dreams:

Chris (l); and his sister Elizabeth (r), Hanging Out in the Yankee Dugout

Chris on the Field of Yankee Stadium

I also took a photo of a lone pigeon on the infield (from the third base side) ...

And, of course, we visited Monument Park...

I'd been to Monument Park before; if you get to a game early, they open up the area to hundreds of fans, who file quickly through the exhibit. But this experience was different; for one, the tour has fewer people, providing each of us with an opportunity to read and understand the words on display. Here is the row of retired numbers, which are posted in the order in which they have been retired: Lou Gehrig first, Ron Guidry last.

A Murderer's Row for the Ages

At this point, tourists enter an area that features plaques and monuments saluting not only Yankee greats, but also significant moments in the history of Yankee Stadium (like those commemorating, for example, the Papal visits of Paul VI and John Paul II). You can see some of those plaques in the background in this photo below. In the foreground are the three central monuments: Lou Gehrig, the immortal Yankee first baseman and captain; Miller Huggins, the terrific 1920s manager who managed the team to six American League pennants and three World Series championships; and Babe Ruth, "A Great Ballplayer. A Great Man. A Great American."
Here are the individual monuments to Gehrig (l) and Ruth (r):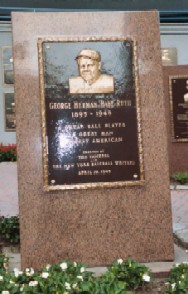 Monuments to Mickey Mantle (l) and Joe DiMaggio (r) were added later: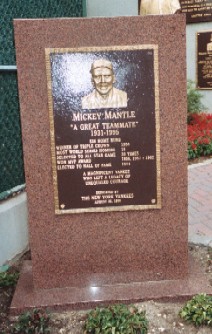 There is a solemnity and reverence to the site, but I chuckled when I overheard a couple of young kids ask if this is where the ballplayers were buried. They certainly do look like tombstones! And the Stadium has been known to have its share of Ghosts, who more often than not get into the heads of the opponents during crucial postseason games. (Obviously, this doesn't happen all the time, especially since 2004, when the "Curse of the Bambino" was no more!)
The last monument to be added to Monument Park was on September 11, 2002. "We Remember" commemorates the first-year anniversary of the terrorist attacks on New York City. To the left of that monument is a touching plaque to Bob Sheppard, Public Address Announcer for over half a century, who is "as synonymous with Yankee Stadium as its copper facade and Monument Park."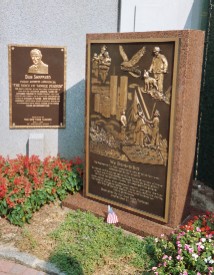 9/11 Tribute: "We Remember" (Bob Sheppard plaque in the background)

After spending time in Monument Park, we made our way back to the Stadium innards, viewing a brief film about the most famous franchise in sports and its stadium's history in the "Great Moments Room." At the culmination of the tour, each of us received a free souvenir Yankee cap.
Oh, and we picked up a special Yankee uniform and matching cap for our dog Blondie. The Summer of '05 may now be history. But Halloween is coming, after all, and she needed a new costume.
---