This tribute is original to "Notablog," first appearing on 14 May 2017.
DEREK JETER DAY IN THE BRONX
By Chris Matthew Sciabarra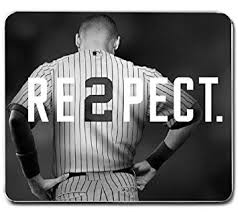 Today, in the Bronx, at the iconic Yankee Stadium, the New York Yankees organization retires the Number 2 worn by its All-Star shortstop [YouTube link] from 1996 to his retirement in 2014. Derek Jeter remains pure class in my scorebook; he was the face of baseball for nearly two decades, especially at a time when the sport was being routinely sullied by juicing scandals. It is not by pure chance that this day of tribute falls on "Mother's Day"; Jeter has always spoken of how deeply his mother, his father, and his family have given him inspiration and love. Today, all of New York and baseball fans everywhere will have a chance to share in that love.
I was fortunate enough to see Jeter play quite a few times at the old Yankee Stadium. His eloquent speech at the closing of that Stadium [YouTube link], (a year before he was among those players who went on to open the New Yankee Stadium, with a 2009 World Series Championship), his final All-Star Game appearance, his farewell speech to the home crowd, his final home game, his final tribute to the crowd, and his final career at-bat against the Boston Red Sox at Fenway Park (where even the Fenway Faithful applauded him) remain among the most poignant moments of his storied career [YouTube links].
His drive and his dedication to win and his passion for the game were a marvel to behold and a joy to watch. He was an absolute gem both at the plate and on the field. He was a five-time World Series champion, which included a 2000 Most Valuable Player Award for the Subway Series against the New York Mets. More than anything, he was, with that classic "inside-out" swing, a clutch hitter (having more than 200 hits per season eight times in his career). He was someone whom the opposition feared when the game was on the line. It was no misnomer when he earned the nickname "Captain Clutch," since his postseason play was as sparkling as his regular season statistics (he retired with a career .310 regular season average, and with a comparable .308 postseason average, having 200 total hits in his postseason history). But his postseason stats are even more remarkable, because they were earned against the best teams in baseball. Who can forget that "Mr. November" [MLB link] moment at the Stadium in 2001? It was at a time when New York City had more than its share of real heroes, but, like Hall of Fame New York Mets' catcher, Mike Piazza [YouTube link] before him, Jeter gave symbolic meaning to New York grit, at the center of three consecutive miraculous Yankee Stadium victories in New York (despite losing the World Series to the Arizona Diamondbacks in seven games).

Jeter holds many all-time franchise records for the New York Yankees, including most all-time hits (3,465), doubles (544), games played (2,747), stolen bases (358), times on base (4,716), plate appearances (12,602) and at bats (11,195). He was the 1996 Rookie of the Year, a 14-time All-Star (including a Most Valuable Player All-Star Game award the same year he was named World Series MVP). He won 5 Gold Glove Awards, 5 Silver Slugger Awards, 2 Hank Aaron Awards, and a Roberto Clemente Award. He was the 28th player in Major League Baseball History to pass the 3,000 hit mark. Always a teammate with a "flair for the dramatic," his 3000th hit was a home-run on a day in which he went 5 for 5, driving in the winning run. He is, in fact, the only Yankee player with more than 3,000 lifetime hits (which ranks sixth all-time among Major League Baseball players, and the most all-time hits by a shortstop).
Pause one moment and think about that.
Jeter has more hits for the Yankees than Babe Ruth, Lou Gehrig, Joe DiMaggio, Mickey Mantle, and the last Yankee shortstop to enter the National Baseball Hall of Fame, Phil Rizzuto.
Check out some of Jeter's greatest plays, along with some of his greatest defensive plays (including the 2001 "flip play" in the playoffs against the Oakland Athletics and the flying-into-the-stands catch against the Boston Red Sox in 2004) [YouTube links].
I should digress a moment to provide a little personal context for my own celebration of this great ballplayer. Being a Yankee fan my whole life, I rooted mainly for a losing team; this was not the "GM" of American baseball that I'd heard about from my elders, who lived through the 1940s and 1950s. In my lifetime, there were two years of World Championships that I celebrated: 1977, with Reggie Jackson smacking three home runs in a single game, and the amazing 1978 comeback team, led by the overwhelming dominance of pitcher Ron Guidry (25-3). That team was down 14 1/2 games in July to the Boston Red Sox, and went on to win a one-game playoff against their notorious rivals, before eventually taking the World Series for a second consecutive year over the Los Angeles Dodgers.
After that, except for a World Series loss in 1981 and a few exciting, but ultimately frustrating, years of "Donnie Baseball" (led by Team Captain Don Mattingly), the Yankees saw very little of the postseason. The Yankees may have been a New York institution, but New York has always been a National League town. After all, it once supported two National League teams: the New York Giants at the Polo Grounds and the Brooklyn Dodgers at Ebbets Field. So from the time of the Miracle Mets of 1969 through the 1986 World Champion Mets, even the late 1970s Yankees were just a blip on the baseball radar (in fact, in their own miracle 1978 season, you couldn't even find them on the back pages of New York's daily newspapers because the newspapers were on strike!).

For me, therefore, it was no coincidence that with the arrival of Derek Jeter in pinstripes as the full-time shortstop of the Yankees in 1996, the team began a renaissance that ended its eighteen-year drought in the World Series. With his matinee idol looks, remarkably steady demeanor, and incredible talent, he seemed perfectly matched for a city that demanded nothing but the best from its sports heroes, "a larger than life presence in a larger than life town," as sportscaster Michael Kay has put it. And from 1996 through 2001, with teams chockful of talent and Joe Torre's managerial expertise, the Yankees won four out of five World Series contests. It is no understatement to say that so much of this success was tied to Jeter's growing maturity as a ballplayer. Later, in 2009, Derek Jeter slipped a fifth World Series ring onto his gifted fingers, with the opening of the new Yankee Stadium.
More than anything, Derek Jeter proved to be a genuine leader, not just as a Captain of the team, but as a gentleman of the sport, a beloved man who inspires young players even today. In my book, #2 will always be #1. It was an honor to watch this man's career unfold. Like All-Star relief pitcher Mariano Rivera, who holds the all-time record for saves, and who is, no doubt, headed for Cooperstown, I hope to see "Captain Clutch" enter Cooperstown as well when he becomes eligible in 2020. For now, I'm just looking forward to hearing the voice of the late Bob Sheppard [YouTube link] introducing Derek Jeter as he steps up to be honored by the team with which he spent his entire baseball career -- a rarity nowadays, for sure. It was quite emotional for this fan to say "farewell" [YouTube link] to the Captain (the Yankees paid tribute to him back in September 2014 [YouTube link]). But it will be sheer delight to welcome him back home for this tribute.
Jeter recently said: "No one had more fun that I did. You're playing a game. . . . I understand that it is your job, it's your profession. You have a lot of responsibilities. But at the same time, you're playing a game, and you have to have fun. And if you don't have fun playing it, I think it's impossible to be good at it. I had fun. Every moment on the field was fun for me."
Jeter made it fun to be a Yankee fan. But that fun transcended the team for which he played. It was one of the most important gifts he gave to the game of baseball: Long live the Captain!
Postscript I (15 May 2017): Take a look at the plaque unveiled at Yankee Stadium in honor of Jeter during yesterday's ceremony, and Derek's speech as well. And check out Mike Lupica's column today in the New York Daily News.
Postscript II (16 May 2017): It was reported by the Associated Press that the ceremony to honor Jeter "was the most-viewed program in the New York area in its time period on Sunday night and the most-watched non-game in the history of the YES network . . ." The ceremony was also televised on ESPN. Check out this really sweet Budweiser tribute to #2 [YouTube link].
---